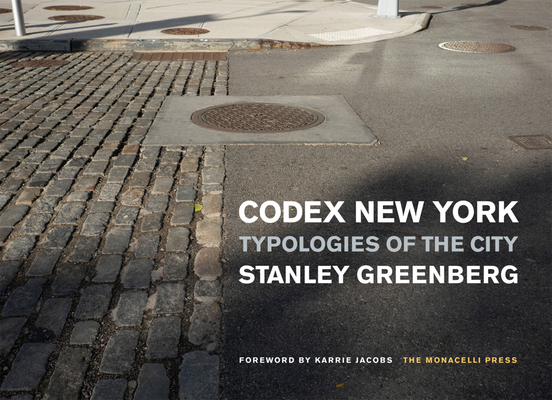 Codex New York (Hardcover)
Typologies of the City
The Monacelli Press, 9781580935227, 304pp.
Publication Date: April 23, 2019
* Individual store prices may vary.
Description
A unique, quirky view of New York City as a vast collection of urban typologies, Codex New York marks one photographer's revelatory journey through the city.

As a lifelong New Yorker and infrastructure aficionado, photographer Stanley Greenberg--author of the bestselling Invisible New York--observes characteristics of the city that most people miss. And the more he passes through it the more he understands New York as a huge index of features that repeat, vary, morph, and multiply--block by block, neighborhood by neighborhood. He embarked on a unique journey: walking every block of Manhattan--from the Battery (where there is much more land than when the Dutch first arrived) to Inwood (which retains more of its original topography than any part of the city)--he photographed striking and subtle urban typologies along the way. Alleys, skybridges, parking sheds, mini streets, water infrastructure, relics--these and more were captured to create an incomparable visual chronicle of the city.

Codex New York assembles these typologies into an idiosyncratic field guide that prompts new paths of inquiry. What are the objects that a city needs to be a city? When were they built and what do they say about the time they were created? Codex New York also serves as a marker of the time that it was created in; many of the empty spaces Greenberg photographed have already been built upon, demolishing the views of the city that now exist only in images. Joining the ranks of great photographic documentary of the city, Codex New York is a love letter to all of the hard edges and urban quirks of this great town.
About the Author
Stanley Greenberg is a Brooklyn-based photographer and author of numerous photography books, including Time Machines (Hirmer Verlag, 2011), Under Construction (University of Chicago Press, 2010), Waterworks: A Photographic Journey Through New York's Hidden Water System (Princeton Architectural Press, 2003), and Invisible New York: The Hidden Infrastructure of the City (Johns Hopkins University Press, 1998).
Greenberg has had one-person exhibitions at the Art Institute of Chicago and the MIT Museum, and his work has been included in group shows at the Metropolitan Museum of Art and the Whitney Museum of American Art. His pictures are included in the collections of the New York Public Library, the Yale University Art Gallery, the Los Angeles County Museum, the Museum of the City of New York and the Brooklyn Museum. He received a fellowship from the John Simon Guggenheim Foundation in 2005. Greenberg has received grants from the Alfred P. Sloan Foundation, the National Endowment for the Arts, the New York Foundation for the Arts, and the New York State Council on the Arts. He is currently photo blogging infrastructure for Urban Omnibus, the Architectural League of New York's web journal devoted to observing, understanding, and shaping the city (urbanomnibus.net/series/underexposed/).