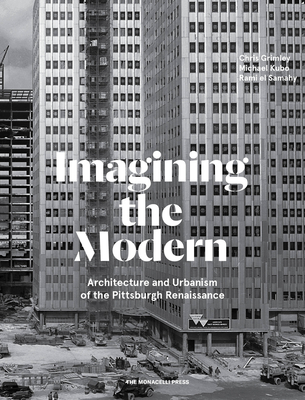 Imagining the Modern (Hardcover)
Architecture and Urbanism of the Pittsburgh Renaissance
The Monacelli Press, 9781580935234, 368pp.
Publication Date: May 28, 2019
* Individual store prices may vary.
Description
Imagining the Modern explores Pittsburgh's ambitious modern architecture and urban renewal program that made it a gem of American postwar cities, and set the stage for its stature today.

In the 1950s and '60s an ambitious program of urban revitalization transformed Pittsburgh and became a model for other American cities. Billed as the Pittsburgh Renaissance, this era of superlatives--the city claimed the tallest aluminum clad building, the world's largest retractable dome, the tallest steel structure--developed through visionary mayors and business leaders, powerful urban planning authorities, and architects and urban designers of international renown, including Frank Lloyd Wright, I.M. Pei, Mies van der Rohe, SOM, and Harrison & Abramovitz. These leaders, civic groups, and architects worked together to reconceive the city through local and federal initiatives that aimed to address the problems that confronted Pittsburgh's postwar development.

Initiated as an award-winning exhibition at the Carnegie Museum of Art in 2014, Imagining the Modern untangles this complicated relationship with modern architecture and planning through a history of Pittsburgh's major sites, protagonists, and voices of intervention. Through original documentation, photographs and drawings, as well as essays, analytical drawings, and interviews with participants, this book provides a nuanced view of this crucial moment in Pittsburgh's evolution. Addressing both positive and negative impacts of the era, Imagining the Modern examines what took place during the city's urban renewal era, what was gained and lost, and what these histories might suggest for the city's future.
About the Author
Rami el Samahy is an architect and Visiting Professor at MIT. He is a principal at the multi-disciplinary studio over,under and was co-curator of HACLab Pittsburgh. His research has investigated a wide variety of urban issues including the contemporary Arab city, the logics of main street retail, and the legacy of urban renewal.
Chris Grimley is a designer and curator with an education in architecture. He has designed books for Monacelli, Rockport, MIT Press, and Rizzoli. He is codirector of over,under's pinkcomma gallery, where he has curated more than thirty exhibitions. With Michael Kubo and Mark Pasnik, he is coauthor of Heroic: Concrete Architecture and the New Boston (The Monacelli Press).
Michael Kubo is assistant professor of architectural history and theory at the Gerald D. Hines College of Architecture and Design, University of Houston. He was Associate Curator for OfficeUS, the U.S. Pavilion at the 2014 International Architecture Biennale in Venice, and is coeditor of OfficeUS Atlas (2015). His writing has appeared in publications including the Journal of the Society of Architectural Historians, Harvard Design Magazine, Architect, Arquine, MAS Context, CLOG, and Volume.