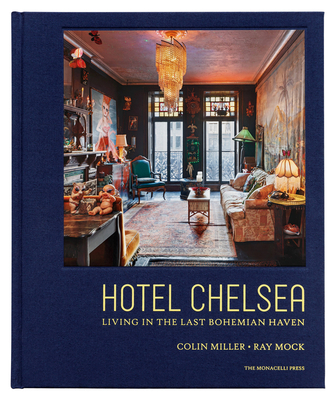 Hotel Chelsea
Living in the Last Bohemian Haven
Hardcover

* Individual store prices may vary.
Description
An immersive photographic tour of the legendary Hotel Chelsea, whose residents share their spaces, their stories, and a delirious collective history of this landmark.

Jackson Pollock, Robert Mapplethorpe, Patti Smith, Dylan Thomas, Arthur Miller, Bob Dylan, Arthur C. Clarke, Andy Warhol, William S. Burroughs, Janis Joplin, Eugene O'Neill, Rufus Wainwright, Betsey Johnson, R. Crumb, Thomas Wolfe, Jasper Johns—these are just a few of the figures who at one time occupied one of the most alluring and storied residences ever: the Chelsea Hotel. Born during the Gilded Age and once the tallest building in New York, the twelve-story landmark has long been a magnet for artists, writers, musicians, and cultural provocateurs of all stripes.

In this book, photographer Colin Miller and writer Ray Mock intimately portray the enduring bohemian spirit of the Chelsea Hotel through interviews with nearly two dozen current residents and richly detailed photographs of their unique spaces. As documented in Miller's abundant photographs, these apartments project the quirky decorating sensibilities of urban aesthetes who largely work in film, theater, and the visual arts, resulting in deliriously ornamental spaces with a kitschy edge. Weathering the overall homogenization of New York and the rapid transformation of the hotel itself—amid recent ownership changeovers and tenant lawsuits—residents remain in about seventy apartments while the rest of the units are converted to rentals (and revert to a hotel-stay basis, which had ceased in 2011).

For the community of artists and intellectuals who remain, the uncertain status of the hotel is just another stage in a roller-coaster history. A fascinating portrait of a strand of resilient bohemian New Yorkers and their creative, deeply idiosyncratic homes, Hotel Chelsea is a rich visual and narrative document of a cultural destination as complicated as it is mythical.
Praise For Hotel Chelsea: Living in the Last Bohemian Haven…
"...A heartfelt celebration of the Chelsea as it is today."
—Aimee Farrell, T: The New York Times Style Magazine

"...A big, colorful celebration of more than two dozen residents, their living spaces and their stories."
—Katherine Roth, Associated Press

"A behind-the-scenes look into the hotly contested battle to preserve one of New York's most storied residences."
—Geoffrey Montes, Galerie Magazine

"The book beautifully captures around half of the remaining residents and their apartments, many of which feature layers of fabrics, art, wallpaper, textures, and a life lived—a maximalist aesthetic you might expect to find there, and a storied tapestry you would never find at a regular hotel. These are the apartments of New Yorkers—collectors of life, eccentric devotees of the city, haters of a cookie cutter. Their homes will soon live in stark contrast to the hotel rooms being built around them for tourists."
—Jen Carlson, Gothamist

"An ode to the Gilded Age residency in the new millennium."
—Sara Rosen, Feature Shoot

"While times have changed, Mock and Miller discovered through documenting the intimate lives of these stalwart residents that the hotel's bohemian spirit still prevailed. Their book, Hotel Chelsea: Living in the Last Bohemian Haven, opens a window into this world, featuring the quirky décor and style of these New York aesthetes with their equally colorful and eccentric lives."
—Laura Powers,
"...Hotel Chelsea: Living in the Last Bohemian Haven, is part love letter to the bygone spirit of the hotel and part awareness campaign, offering insight into the complicated socio-economic dynamics of the hotel's current iteration."
—Julia Brenner Forbes
The Monacelli Press, 9781580935258, 256pp.
Publication Date: November 12, 2019
About the Author
Colin Miller is a photographer based in Brooklyn, New York. His photography focuses on architecture and interior design throughout the world. His work has been published in a variety of magazines, books, and websites including Elle Décor, Architectural Digest Germany, the New York Times, Town and Country, and Bon Appétit, among many others. He studied photography at New York University's Tisch School of the Arts.
Ray Mock is a graffiti documentarian, street art critic, zine maven, and founder of the street art/editions publisher Carnage (carnagenyc.com). He is the author of Banksy in New York (2014), a firsthand account of the internationally renowned street artist's month-long residency in the city. His photography has been featured in numerous books (Graffiti 365, Wild Art, Banksy: You Are an Acceptable Level of Threat), and he is a frequent contributor to Juxtapoz, Vice, Mass Appeal, The Creators Project, and other publications.
Gaby Hoffmann is a mother, partner, actress, director, and New Yorker.
Alex Auder is a performance artist, actress, writer, portrait artist, provocateur, and yoga teacher. Her unique upbringing in the notorious Chelsea Hotel is detailed in a forthcoming memoir. She has appeared in several mainstream and experimental films including Wim Wenders's The State of Things, Peggy Ahwesh's The Star Eaters, and Rainer Judd's Remember Back, Remember When. Auder has acted in and contributed to the productions of world-renowned Hungarian theater group the Squat Theater and performed the one-woman play Daddy's Girl at the Kitchen. She is a recurring collaborator in the photographic projects of artist A.L. Steiner, and is a featured character in the HBO series High Maintenance. She lives with her family in Philadelphia.
or
Not Currently Available for Direct Purchase