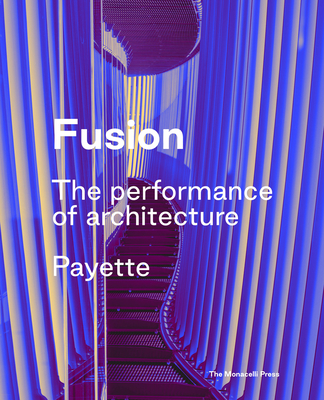 Fusion (Hardcover)
The Performance of Architecture
The Monacelli Press, 9781580935340, 224pp.
Publication Date: June 16, 2020
* Individual store prices may vary.
Description
In this first monograph, award-winning firm Payette demonstrates its engagement with architecture that balances cutting-edge design, extraordinary efficiency, and humane values.

Fusion: The Architecture of Payette explores the integration of high design and performance as the two drivers creating architecture that is rational, humane, and beautiful. The recipient of the 2019 AIA Architecture Firm Award, Payette embodies practices that are crucial to bettering our built environment. Founded eighty-five years ago, the hospitals and laboratories that Payette has designed introduced advances that continue through today, while never compromising on aesthetic and use value.

With primary sections illuminating core principles of the firm--Identity and Transformation, Materiality and Craft, Taming Complexity, and Measuring Performance--the book presents detailed portraits of recent projects that manifest these principles. Sympathetic to their cultural settings, incorporating nature, socially rich, and legibly ordered, these projects stand as models not only for the state of the art of hospital and laboratory architecture, but also for how architecture improves people's lives every day.

Rooted in the conviction that beautiful buildings should perform beautifully--not just in environmental and use terms, but also socially and culturally--Payette in this book provides insight into how dispelling the artificial dichotomy between performance and design creates a holistic architecture for the twenty-first century.
About the Author
James Collins, Andrea Love, George Marsh, and Kevin Sullivan are partners in the Boston-based firm Payette.
James Collins, FAIA, joined Payette in 1979. His projects include Milken Institute School of Public Health at George Washington University (2014), Boston University's Rajen Kilachand Center for Integrated Life Sciences and Engineering (2017), and the Skolkovo Institute of Science and Technology in Moscow (2018). Andrea Love, AIA, leads the firm's Building Science Research Group, working across projects to integrate performance-modeling tools into the design process. George Marsh, FAIA, joined Payette in 1980. His projects include Tufts University's Science and Engineering Complex (2017) and the forthcoming Fifth XiangYa Hospital in Changsha, China (2020). Kevin Sullivan, FAIA, is the president of Payette. His work includes seminal health care, science, and campus planning projects, including most notably Northeastern University's Interdisciplinary Science and Engineering Complex (2016), winner of numerous design awards, including the Boston Society of Architects' Harleston Parker Medal for "the single most beautiful building or other structure" in Boston in the past ten years.