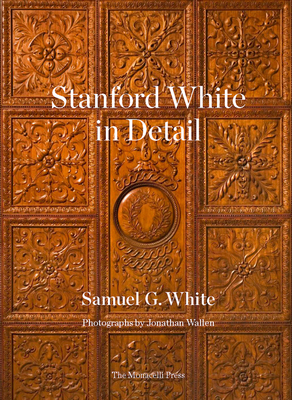 Stanford White in Detail
Hardcover

* Individual store prices may vary.
Description
A rich presentation of the sensual and scenographic effects created by the legendary Stanford White, whose designs extend beyond architecture to encompass lavish interiors, jewelry, furniture, gilded frames, and ceremonial events.

Once proposed as the "Commissioner of Beauty" for New York City, Stanford White was a master of architecture, interior design, and ornament, fearlessly juxtaposing materials and objects from myriad cultures and times. Drawing on precedents from antiquity and the Renaissance, from Asia, the Middle East, and Europe as well as Colonial America, White created complex surfaces inside and out. Stanford White in Detail examines this innovative and intricate web through lush, tightly framed vignettes of carved wood and marble, metalwork, mosaic, and tile as well as generous overall room views to demonstrate how these are woven together for a unique effect.
Praise For Stanford White in Detail…
"...reveals how layered and complex interiors, architecture, furniture, and jewelry took shape under the classical master's gaze. . . . With a focus on materials, texture, light, and atmosphere, the book offers up a detailed photographic tribute to the intricacies of White's storied practice."
—AD Pro

"[A] very welcome book . . .  a rich feast."
—Interior Design

"Stanford White's unparalleled eye for detail transformed American architecture."
—Galerie

"A celebrated designer in his own right, Samuel White guides us through elegant residences created by his renowned ancestor in New York City, Newport and beyond."
—1stdibs Introspective

"Sumptuous – and to some degree astonishing – it'll be a welcome addition to any aficionado's bookshelf."
—Architects + Artisans

"Dazzling."
—Oculus

"[Features] illustrated examples of White's exuberance and represents a worthy addition to studies of American architecture's golden age."
—The New Criterion

"This book is so beautiful—The stunning photographs, the size, the spareness of text, and the captions at the end (like the map in a chocolate box!)."
—Helena Fifer

". . . showcases the amazing details of Gilded Age architect Stanford White's genius on his numerous works. . . [this book] will be the perfect holiday gift for all who appreciate architecture and beauty." 
—Mansions of the Gilded Age
 
"So much has been said about White that it is startling to come upon Stanford White in Detail, which manages to say something new about him. A book of striking photographs of his interiors and architectural ornament, it is the work of Samuel G. White, the great-grandson of its subject and an architect in his own right. It is that rare literary object: a nearly wordless book that manages to say a great deal."
—The New Criterion

"On the cover of Stanford White in Detail is an intricately carved wood surface from the Villard Houses in Midtown Manhattan, one of many landmarks designed by the firm of McKim, Mead and White. . . . I like to think of the surface as a door, making its presence on the cover an invitation to "open" the book and "enter" the realm of the architectural details within."
—A Daily Dose of Architecture

"This deep and probing book covers the full extent of his renowned forebearer's career, focusing on his architectural details, interior design, and decor."
—Oculus
The Monacelli Press, 9781580935388, 256pp.
Publication Date: October 13, 2020
About the Author
Samuel G. White, a great-grandson of Stanford White, is a consulting partner of PBDW Architects in New York. As a practicing architect with an extensive portfolio of preservation and adaptive reuse projects as well as a deep interest in American residential architecture, he brings a unique perspective to the discussion of Stanford White's designs. He isthe author of three books on McKim, Mead & White, most recently Stanford White Architect. A fellow of the American Institute of Architects and a National Academician, he is a trustee of Green-Wood Cemetery and the Saint-Gaudens Memorial, a member of the Advisory Council of the New York Landmarks Conservancy, and chair of the Committee to Save Gould Memorial Library, the most significant surviving institutional building by Stanford White.