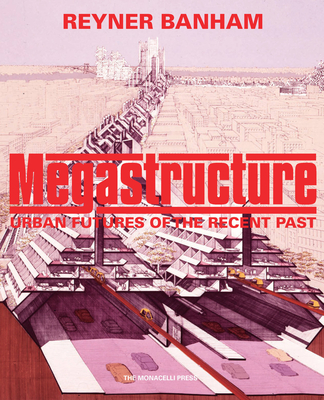 Megastructure (Hardcover)
The Monacelli Press, 9781580935401, 232pp.
Publication Date: May 26, 2020
* Individual store prices may vary.
Description
A long-sought reprint of this classic of architectural history and criticism, surveying a movement that would inspire architects, fantasists, and filmmakers alike.

It is an architectural concept as alluring as it is elusive, as futuristic as it is primordial. Megastructure is what it sounds like: a vastly scaled edifice that can contain potentially countless uses, contexts, and adaptations. Theorized and briefly experimented with in built form in the 1960s, megastructures almost as quickly went out of fashion in the profession. But Reyner Banham's 1976 book compiled the origin stories and ongoing mythos of this visionary movement, seeking to chart its lively rise, rapid fall, and ongoing meaning.
Now back in print after decades and with original editions fetching well over $100 on the secondary market, Megastructure: Urban Futures of the Recent Past is part of the recent surge in attention to this quixotic form, of which some examples were built but to this day remains--decades after its codification--more of a poetic idea than a real architectural type.
Banham, among the most gifted and incisive architectural critics and historians of his time, sought connections between theoretical origins in Le Corbusier's more starry-eyed drawings to the flurry of theories by the Japanese Metabolist architects, to less intentional examples in military architecture, industry, infrastructure, and the emerging instances in pop culture and art. Had he written the book a few years later he would find an abundance of examples in speculative art and science fiction cinema, mediums where it continues to provoke wonder to this day.
A long-sought study by an author who combined imagination, wit, and pioneering scholarship, the republication of Megastructure is an opportunity for scholars and laypeople alike to return to the origins of this fantastic urban idea.
About the Author
Reyner Banham (1922–1988) was an English critic and historian whose articles, books, and lectures helped define the understanding of modern architecture and technology. A student of such early twentieth-century intellectual masters as Nikolaus Pevsner and Sigfried Giedion, he would go on to intersect with some of the revolutionary cultural movements of his era, from Brutalist architecture to Pop Art. In the 1960s he frequently visited the United States, where he relocated in 1976, and authored one of the classic books on Los Angeles landscape and urbanism, Los Angeles: The Architecture of Four Ecologies (1971). He is the author of numerous other important books, including Theory and Design in the First Machine Age (1960), The New Brutalism: Ethic or Aesthetic? (1966), Architecture of the Well-Tempered Environment (1969), Scenes in America Deserta (1982), and A Concrete Atlantis: US Industrial Building and European Modern Architecture (1986). He died in London shortly after being appointed Sheldon H. Solow Professor of the History of Architecture at the Institute of Fine Arts, New York University.