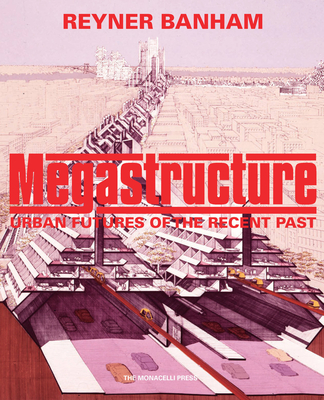 Megastructure
Urban Futures of the Recent Past
Hardcover

* Individual store prices may vary.
Description
A long-sought reprint of this classic of architectural history and criticism, surveying a movement that would inspire architects, fantasists, and filmmakers alike.

It is an architectural concept as alluring as it is elusive, as futuristic as it is primordial. Megastructure is what it sounds like: a vastly scaled edifice that can contain potentially countless uses, contexts, and adaptations. Theorized and briefly experimented with in built form in the 1960s, megastructures almost as quickly went out of fashion in the profession. But Reyner Banham's 1976 book compiled the origin stories and ongoing mythos of this visionary movement, seeking to chart its lively rise, rapid fall, and ongoing meaning.
Now back in print after decades and with original editions fetching well over $100 on the secondary market, Megastructure: Urban Futures of the Recent Past is part of the recent surge in attention to this quixotic form, of which some examples were built but to this day remains--decades after its codification--more of a poetic idea than a real architectural type.
Banham, among the most gifted and incisive architectural critics and historians of his time, sought connections between theoretical origins in Le Corbusier's more starry-eyed drawings to the flurry of theories by the Japanese Metabolist architects, to less intentional examples in military architecture, industry, infrastructure, and the emerging instances in pop culture and art. Had he written the book a few years later he would find an abundance of examples in speculative art and science fiction cinema, mediums where it continues to provoke wonder to this day.
A long-sought study by an author who combined imagination, wit, and pioneering scholarship, the republication of Megastructure is an opportunity for scholars and laypeople alike to return to the origins of this fantastic urban idea.
Praise For Megastructure: Urban Futures of the Recent Past…
"[A] very timely reissue."
—Metropolis 

"[E]xhaustive in its presentation." 
—A Daily Dose of Architecture 

"Of all Reyner Banham's works, Megastructure has only grown more timely as cities escalate beyond reason, and as architects and urbanists struggle for terms to describe the spaces of twenty-first century life. As Banham illustrates and as Todd Gannon, in a brilliant new foreword, elucidates further, megastructures are not simply big buildings, nor collections of them, but a new order of civic and infrastructural presence. Banham was the first to grasp this new common denominator of globalization."
—Joe Day, Principal, Deegan-Day Design

"As both a living relic of the past and a haunting vision of an indeterminate future (think Blade Runner 2049) the megastructure continues to capture the imagination. Important in its time for offering the first comprehensive survey on the subject, this facsimile edition of Reyner Banham's 1976 book will appeal to a new readership interested in how the visionary architecture of the 1960s came to be built all over the world. This republication sheds light on an important chapter in the history of late modern architecture as recounted by a major architectural historian and critic who played an instrumental role in the megastructure's formation."
—Sarah Deyong, College of Architecture, University of Nebraska-Lincoln
The Monacelli Press, 9781580935401, 232pp.
Publication Date: June 16, 2020
About the Author
Reyner Banham (1922–1988) was an English critic and historian whose articles, books, and lectures helped define the understanding of modern architecture and technology. He is the author one of the classic books on Los Angeles landscape and urbanism, Los Angeles: The Architecture of Four Ecologies (1971) as well as numerous other important books including Theory and Design in the First Machine Age (1960), The New Brutalism: Ethic or Aesthetic? (1966), and Architecture of the Well-Tempered Environment (1969). 

Todd Gannon is Robert S. Livesey Professor and Head of the Architecture Section at The Ohio State University's Knowlton School. His most recent book is Reyner Banham and the Paradoxes of High Tech (2017) and is author and coeditor of several books including Swimming to Suburbia (2018), The Light Construction Reader (Monacelli, 2002), Et in Suburbia Ego: José Oubrerie's Miller House (2013), and monographs on the work of Peter Eisenman, Zaha Hadid, Steven Holl, Morphosis, Eric Owen Moss, Oyler Wu Collaborative, Mack Scogin Merrill Elam Architects, Bernard Tschumi, and UN Studio.