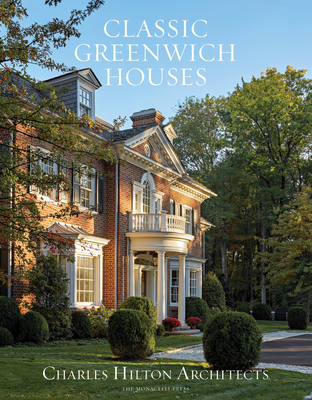 Classic Greenwich Houses
Hardcover

* Individual store prices may vary.
Description
Elegant and welcoming houses in bucolic settings by Charles Hilton, a leading traditional architect in Greenwich.

This book presents nine spectacular houses, each responding to an equally spectacular site. They are the work of Charles Hilton, a leading traditional architect in Greenwich, Connecticut, whose firm has been honored with multiple regional and national awards including Palladio and Stanford White awards.

As an architect, Hilton is committed to designing imaginative buildings that inspire and delight and to creating a humanistic architecture that embodies the aspirations of his clients. He works in traditional vocabularies--principally Georgian, Beaux-Arts and shingle style--with exquisite classical detailing, but his houses are also completely contemporary in incorporating state-of-the-art technology and sustainable design. As he observes, "Our clients rely on our creativity and ingenuity to create houses that honor tradition, while seamlessly integrating modern amenities essential for contemporary living."

Hilton has practiced in Greenwich for more than thirty years, and he is completely fluent with its rich and diverse architectural heritage. This means that his houses, while meticulously detailed and impressive, are also beautifully integrated into the panoramic waterfronts, rolling lawns and rustic back-country landscapes that are characteristic of Greenwich and the surrounding countryside.
Praise For Classic Greenwich Houses…
"Dream of picturesque east coast homes year-round with this architect's new book." 
—Luxe Interiors and Design 

"Classic Greenwich Houses belongs on the coffee tables and desks of architectural professionals, students, and admirers of quintessential, traditional residences alike."
—Greenwich Magazine

"Classic Greenwich Houses presents nine spectacular structures, each responding to an equally spectacular site."
—atHome Magazine

"The book presents nine of his inspirational projects...highlighting the creativity and ingenuity necessary to design homes that honor tradition while integrating modern amenities."
—Connecticut Cottages & Gardens 

"It's filled with jaw-dropping photos that will whet the appetites of architecture aficionados everywhere."
—New England Home

"Hilton hopes readers "will take the time to read the stories and immerse themselves in the many beautiful images. If they do, they will see that great architectural design is not simply about replicating a favorite style or assembling a collection of their favorite design elements."
—The Darien Times

"A sumptuous new monograph. . . . firmly establishes Hilton as a prominent practitioner of the New Classicism. The book is a good read and is richly illustrated."
—Bedford New Canaan Magazine

"A beautiful new book."
—Greenwich Moms

"Classic Greenwich Houses highlights his range in style, providing striking examples of Georgian, Colonial, and Shingle Style architecture."
—Period Homes

"Greenwich is a storied area of East Coast privilege and Old-World aristocratic style. And no one is more adept at conjuring visions of the grand life than Charles Hilton Architects. Whether a stately Georgian estate or a sprawling Shingle-style American seaside mans, each of Hilton's houses is richly imagined, beautifully detailed and sumptuously fitted out."
—HIVE

"Charles Hilton easily combines traditional architecture and design principles with what the latest technology has to offer. In this stunning book, see how his firm masters Georgian, Beaux- Arts, shingle style and other forms of architecture while blending his work seamlessly into each new project's natural setting."
—Serendipity Magazine

"For fans of classic architecture . . . your coffee table and holiday guests will thank you."
—Traditional Home

"An ideal resource for design professionals, admirers of traditional residential design and anyone planning to build their dream home. This thick and attractive book transports its reader into a world of luxury making it a great conversation piece and a fantastic book to complete your coffee table."
—Bedford New Canaan Magazine
The Monacelli Press, 9781580935449, 240pp.
Publication Date: September 15, 2020
About the Author
Charles Hilton is the founder of Charles Hilton Architects, an award-winning firm based in Greenwich, Connecticut. Hilton received his architectural education at Pennsylvania State University and at the Technische University in Darmstadt. During his time in Germany, he traveled extensively throughout Western Europe formulating his ideas about the role of classical architecture in the modern world. Hilton is recognized as a Top 50 Coastal Architect and is a member of the New England Design Hall of Fame. Hundreds of timeless residential designs have earned him recognition from the Institute of Classical Architecture American Institute of Architects.& Art and the