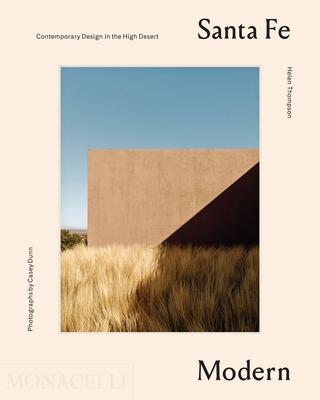 Santa Fe Modern
Contemporary Design in the High Desert
Hardcover

* Individual store prices may vary.
Description
First survey of modernist and contemporary architecture and interiors in the richly layered architectural history of Santa Fe

Santa Fe Modern reveals the high desert landscape as an ideal setting for bold, abstracted forms of modernist houses. Wide swaths of glass, deep-set portals, long porches, and courtyards allow vistas, color, and light to become integral parts of the very being of a house, emboldening a way to experience a personal connection to the desert landscape. The architects featured draw from the New Mexican architectural heritage--they use ancient materials such as adobe in combination with steel and glass, and they apply this language to the proportions and demands exacted by today's world. The houses they have designed are confident examples of architecture that is particular to the New Mexico landscape and climate, and yet simultaneously evoke the rigorous expressions of modernism. The vigor and the allure of modern art and architecture hearten each other in a way that is visible and exciting, and this book demonstrates the synergistic relationship between art, architecture, and the land.
Praise For Santa Fe Modern: Contemporary Design in the High Desert…
Featured in the Wall Street Journal 2021 Holiday Gift Guide

Featured in Robb Report's 2021 Holiday Gift Guide


"Santa Fe Modern would look good in the centre of any room, however, it also provides a much deeper conversation and approach to the natural and built environment."
—Aesthetica

"The final volume of author Helen Thompson's "Modern" trilogy arrives filled with the sort of comfortably contemporary homes and lean interiors the author is known for finding, exploring and deconstructing for our voyeuristic delight. But most exciting, this is the first book-length overview of modernist and contemporary architecture and interiors in the city best known for its historic adobes."
—360 West

"Santa Fe Modern is the first to illustrate how architectural ideas that are both new and ancient have redefined the city and its culture." 
—Modern Luxury Interiors Texas

"Forget Palm Springs—Santa Fe is the new mecca for modern architecture. A new book argues that the artsy town is now an architectural powerhouse." 
—Bloomberg Pursuits

"Writer Helen Thompson pays tribute to both the ancient and the modern—and the special alchemy that occurs when the two meet—in this celebration of New Mexico homes, the third work in a trilogy."
—Elle Decor

"Fans of Santa Fe, N.M., are sure to embrace architecture writer Helen Thompson's newest book. . . . Thompson and Dunn capture both the sense of place and the sense of style of Santa Fe."
—Houston Chronicle

"As any design-lover can tell you, Santa Fe has striking contemporary architecture that stuns amid the high desert setting and traditional adobe structures. This hardcover celebrates that design heritage, with a look at the destination's rich history and the architects who have found a place in it."
—Conde Nast Traveler

"The perfect coffee table book, and one that they'll actually read." 
—Camille Styles

"If you are a lover of all things Southwestern, this book will warm your heart faster than a kiva fireplace."
—Wall Street Journal

"As any desert dweller knows, the landscape's saturated sunsets and botanical austerity create an ideal backdrop for a variety of architectural styles. In Santa Fe, architects have responded with designs that are rooted in tradition yet also forward thinking in execution. The result is an architectural authenticity captured in Santa Fe Modern: Contemporary Design in the High Desert."
—Luxe Interiors + Design

"How to live high in Santa Fe: a look at stunning modern homes in the desert city."
—Dallas Morning News

"Offers a compelling look at why the marriage of home design and its surrounding environment is so vital." 
—Hollywood Reporter

"A go-to tome for high desert dreaming."
—Southwest Contemporary

"Finally, fans of this subject matter can rejoice with the launch of Helen Thompson's handsome and tasteful latest project, Santa Fe Modern."
—Hyperallergic

"Paired against the ruggedness of the desert and traditional adobe homes, the modern architecture of Sante Fe is striking—a dichotomy author Helen Thompson and photographer Casey Dunn beautifully capture in Santa Fe Modern. With every page, you'll find yourself more entranced by architects' use of the landscape to inform—and stand in contrast to—each design."
—House Beautiful

"A survey of architecture and interiors from this richly layered New Mexico town."
—Magnolia Journal

"As an extra treat, the center of the book comprises a 16-page caption-free portfolio of black-and-white photographs of the splendid natural environment that enfolds these splendid houses. What's not to like?"
—Interior Design

"The book looks at the series of modern designs that, along with its beautifully arid surrounds, define the landscapes of Santa Fe." 
—Wallpaper*

The Monacelli Press, 9781580935616, 240pp.
Publication Date: November 9, 2021
About the Author
Helen Thompson is a nationally known writer on interior design and architecture. Formerly a food writer and editor for Texas Monthly, she was the Texas city editor for Metropolitan Home and has written and produced articles for Elle Decor, Architectural Digest, House Beautiful, Martha Stewart Living, Western Interiors, Traditional Home, and Veranda. She is also the author of Marfa Modern and Texas Made, Texas Modern and a contributor to Hocker 2005-2020 Landscapes, all Monacelli titles, as well as The Big Texas Steakhouse Cookbook, and The Mansion on Turtle Creek Cookbook. She lives in Santa Fe.

Casey Dunn is an Austin-based architectural and landscape photographer whose work has appeared in Dwell, the New York Times Magazine, Interior Design, Architectural Digest, Architectural Record, and Paper City Magazine. He is the photographer for Marfa Modern, Texas Made, Texas Modern, and Oasis (Potter, 2020).