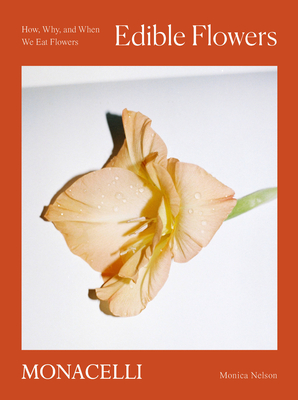 Edible Flowers
How, Why, and When We Eat Flowers
Hardcover

* Individual store prices may vary.
Description
A beautiful and illuminating guide to the use and cultural history of edible flowers, featuring gorgeous original photography, simple recipes and preparation methods, and thoughtful essays on eating flowers by leading voices

This stunning guide to edible flowers--conceived by Monica Nelson, the founding creative and photo director of the influential journal Wilder Quarterly, and Adrianna Glaviano, a noted food and lifestyle photographer--is packed with information and features lush original photography.

Organizing more than 100 flowers alphabetically by their common name, the book offers in each entry handy reference notes including the flower's Latin name, its general flavor profile, its origins, and which parts of the plant are edible, all accompanied by a vibrant photographic portrait. Punctuated by simple recipes and short, essayistic moments written by a diverse roster of celebrated chefs, artists, and writers recalling the use of edible flowers in their creative and gastronomic histories, Edible Flowers is both a practical primer and a delightful read.
Praise For Edible Flowers: How, Why, and When We Eat Flowers…
Featured in The New York Times 2021 Holiday Gift Guide

"Featuring glorious photography by Adrianna Glaviano, the book Edible Flowers: How, Why, and When We Eat Flowers by Monica Nelson is part practical guide, history book and personal story—all organized alphabetically by each bloom's common name." 
—Cool Hunting

"The colorful world of edible flowers . . .​​ this guide takes floral food a few steps further, covering the history and common uses of flowers in the kitchen." 
—Atlas Obscura

"A new book proves that these beauties are way more than just a garnish."
—Thrillist

"This one is a true sensual experience between two covers."
—BookPage

"The 260-page guide provides digestible content that is not only beautiful but full of substance. Monica digs deep into the cultural history of each native species to build the most intricate profiles that go beyond the beauty of the flower."
—Architectural Digest

"More than 100 flowers feature in this cultural history of edible blooms, with lush photography."
—FT How To Spend It

"The history, culture and use of edible flowers is explored in a fragrant new tome."
—Wallpaper*

"A treat for organic farmers and anyone who loves to cook."
—Library Journal

". . . includes a lexicon of tasty blooms and what to cook with them."
—Globe and Mail Style Advisor 

"Beautiful photos by Adrianna Glaviano accompany many of the entries [and the] book itself is on the small side, and could easily be tucked into a backpack for reference by anyone who's into foraging."
—Garden Design Online

"Edible Flowers is a thoughtfully assembled collection of stories and facts that reflect our ongoing relationship with the flowers we use to decorate and flavour dishes. It reminds us of the age-old traditions we uphold when planting, harvesting, and eating flowers across the seasons."
—TOAST Magazine


The Monacelli Press, 9781580935715, 260pp.
Publication Date: November 2, 2021
About the Author
Monica Nelson is a writer and graphic designer in New York. She has developed strategic visual narratives for publications, cultural institutions, and brands, among them Gap, Kate Spade, and Levis, working with over 100 photographers--some emerging, some Magnum. She was the founding creative and photo director of Wilder Quarterly, which fostered a floral-drenched view of the natural world.

Adrianna Glaviano is a photographer who collaborates with magazines and brands to shoot interiors, food, travel, art, architecture, and fashion. She is currently working on the forthcoming cookbook Green with artist Laila Gohar, to be published by Apartamento Studios. Other selected clients include Wall Street Journal, Apartamento, PIN-UP, The Gourmand, Wallpaper*, AD France, Casa Vogue, Swiss Airlines, and T Magazine.