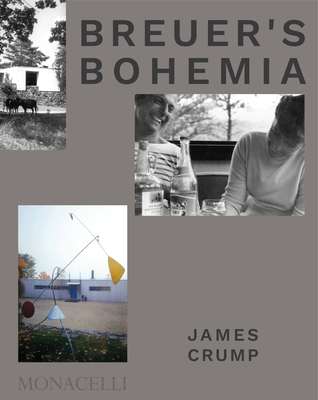 Breuer's Bohemia
The Architect, His Circle, and Midcentury Houses in New England
Hardcover

* Individual store prices may vary.
Description
Breuer's Bohemia explores a vibrant period of midcentury modern design and culture as seen through the influential New England houses designed by Marcel Breuer for his circle of clients and friends.

The iconic twentieth-century architect Marcel Breuer was a prolific designer of residential architecture, which is often overshadowed by his early renown as a Bauhaus furniture maker and his large-scale projects. Breuer's Bohemia surveys the houses he designed in Connecticut and Massachusetts from the 1950s through the '70s, many of which were commissioned by a few culturally progressive clients—chiefly Rufus and Leslie Stillman and Andrew and Jamie Gagarin—who coalesced around him into a dynamic social circle. Included in this scene were prominent cultural figures such as Alexander Calder,
Arthur Miller, Francine du Plessix Gray, Philip Roth, and William Styron, and more, marking a unique intersection of postwar architecture, art, and letters.

The publication of Breuer's Bohemia coincides with the feature-length documentary of the same name by author and filmmaker James Crump, exploring Breuer's explosive residential practice on the East Coast. Through original research and interviews, the voices of principal characters from Breuer's circle and notable figures from the field of architecture help tell the story of Breuer's collaborations with his friends and clients, breathing new life into the history of the rich cultural atmosphere of which they all played a vital part.

Heavily illustrated with vintage and contemporary photographs as well as rarely seen archival materials, Breuer's Bohemia is a unique glimpse of a twentieth-century milieu that produced an aesthetic, intellectual, and sometimes sybaritic community during a fertile period of American design and culture.
Praise For Breuer's Bohemia: The Architect, His Circle, and Midcentury Houses in New England…
Featured in The New York Times 2021 Wirecutter Holiday Gift Guide

Featured in the Wall Street Journal 2021 Holiday Gift Guide

Featured in T Magazine's "The T List": Five Things We Recommend This Week

"Breuer's Bohemia, a substantial, handsomely executed volume. . . James Crump weaves a fascinating history of how private lives intersect with architecture, all the while clearly explaining what made these arresting structures so practical and appealing."
—Wall Street Journal

"Breuer's Bohemia surveys an oft-overlooked corner of the Modernist's oeuvre."
—Metropolis

"The image heavy Breuer's Bohemia opens up a new dimension of the designer's practice for those that are already familiar and those just getting started." 
—Cultured Magazine

"Takes an incisive look into the roiling cultural milieu in which Marcel Breuer crafted some of his most groundbreaking residential projects. It's a tale of inspiration and decadence, rife with heavy drinking and free love, all set against a backdrop of leftist politics and social iconoclasm incubated in the seemingly staid suburban outposts of Connecticut and Massachusetts."
—Architectural Digest
 
"[A] must read."
—Aspire Design and Home

"...covers the saga in print, with irresistible photos of an all-star cast and their louche New England idyll."
—The Spaces

"Breuer's Bohemia is an excellent, vivid documentation of a specific time and place."
—A Daily Dose of Architecture 

"Crump's chronicle of Breuer's more personal projects and entanglements . . . shed[s] light on what seems a hidden corner of his rich legacy. It also illuminates an interesting chapter of New England's Modernist heritage."
—Metropolis

"The sense that permeates Breuer's Bohemia— one perhaps unsurprising for a catalogue on the life and work of this influential Bauhausian-furniture maker turned residential architect — is a love of architecture. . . For readers who feel a similar love for the niche interests and wider aesthetics of midcentury Modern architecture, Breuer's Bohemia is a treasure trove of imagery, letters, and media surrounding the interlocution between titans of the form, their patrons, and the impression they left on the landscape and the medium."
—Hyperallergic

"The book is rich in history and text, a true deep dive." 
—1stdibs Introspective Magazine

"A worthy addition to larger architecture collections."
—Library Journal
The Monacelli Press, 9781580935784, 248pp.
Publication Date: September 14, 2021
About the Author
James Crump is a writer, director, and producer whose films include the documentary Spit Earth: Who Is Jordan Wolfson? (2020); Antonio Lopez 1970: Sex Fashion & Disco (2018), winner of the Metropolitan Grand Jury prize at the 2017 DOC NYC Film Festival; Troublemakers: The Story of Land Art (2016), which premiered at the New York Film Festival with the Wall Street Journal declaring that it "takes its place among the great art documentaries of the past half century"; and Black White + Gray: A Portrait of Sam Wagstaff and Robert Mapplethorpe (2007), which premiered at the Tribeca Film Festival.

An acclaimed art historian and curator, Crump is also the author, coauthor, and editor of numerous books and has published widely in the fields of modern and contemporary art. His critical texts have appeared in Art in America, Artforum, Archives of American Art Journal for the Smithsonian Museum, and Art Review, among other publications.