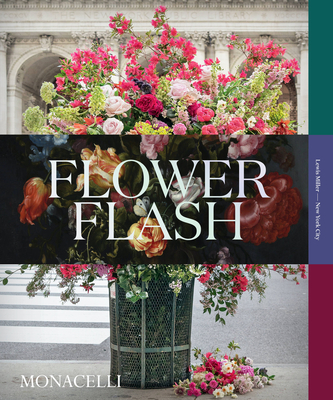 Flower Flash
Hardcover

* Individual store prices may vary.
Description
From Lewis Miller, the celebrated floral designer and "Flower Bandit" himself, an intimate and joyous behind-the-scenes look at his signature Flower Flashes as they introduced bright moments of natural beauty into the city when they were needed most.

Before dawn one morning in October 2016, renowned New York-based floral designer Lewis Miller stealthily arranged hundreds of brightly colored dahlias, carnations, and mums into a psychedelic halo around the John Lennon memorial in Central Park. The spontaneous floral installation was Miller's gift to the city—an effort to spark joy during a difficult time. Nearly five years and more than ninety Flower Flashes later, these elaborate flower bombs—bursts of jubilant blooms in trash cans, over bus canopies, on construction sites and traffic medians—have brought moments of delight and wonder to countless New Yorkers and flower lovers everywhere, and earned Miller a following of dedicated fans and the nickname the "Flower Bandit."

After New York City entered lockdown, Miller doubled down, creating Flower Flashes outside hospitals to express gratitude to frontline health workers and throughout the city to raise spirits. This gorgeous and poignant visual diary traces the phenomenon from the first, spontaneous Flower Flash to the even more profound installations of the pandemic through a kaleidoscopic collage of photos documenting the Flower Flashes, behind-the-scenes snapshots, Miller's inspiration material, fan contributions, and more.
Praise For Flower Flash…
As featured on season 19 of Project Runway

A Barnes & Noble 2021 Holiday Gift Guide pick

Named one of the Best Coffee Table Books of All Time by Apartment Therapy

"Lewis Miller, who has, under cover of night, turned the city's bedraggled mascots, the waist-high metal mesh garbage cans, into giant vases — is taking the most evanescent of the decorative arts into places it has rarely gone. Unlike graffiti, which is meant to leave its mark on mostly urban environments for as long as possible, these installations attempt not to defy but to chronicle nature's mutability."
—T, The New York Times Style Magazine

"There is something magical about chancing upon a flash. Flowers spring up overnight out of waste bins or grow like beautiful weeds from old phone boxes – if the weeds were roses and anemones."
—The Financial Times

"The Banksy of floral design."
—The New Yorker

"If you live in New York City—or lurk on social media even a little bit—chances are you've come across the following strange and wondrous sight: A huge, colorful arrangement of fresh flowers placed at a seemingly random location. Perhaps a larger-than-life bouquet of forsythia and sunflowers bursting from an empty city trash can. Or a mammoth garland of roses draped around a statue in Central Park. These installations are so striking, they've likely caused you to stop in your tracks. They've also likely caused you to ponder the identity of the genius bandit behind these glorious acts. The genius bandit, it turns out, is Lewis Miller, a florist known for his fantastical wedding and party arrangements. . . He and his merry band of beautifiers have been stealthily creating what they call Flower Flashes. Their goal? Only to bring joy to their fellow citizens' daily commutes."
—Vogue

"You need to add [Flower Flash] to your reading list. . . . [It] traces Miller's floral journey from the first installation to now through behind-the-scenes snapshots and explanations of each creation."
—Veranda

"...chronicles the guerrilla-style urban floral installations he fashions throughout Manhattan."
—Veranda

"Known for bedecking the streets of Manhattan in enormous bouquets of colorful flowers, event and floral designer Lewis Miller reveals the backstory behind these memorable creations."
—Frederic Magazine

"Everything we've ever wanted to know about esteemed New York florist Lewis Miller and his famous Flower Flashes that bring beauty to the urban landscape and joy and comfort to all that pass by them."
—Flower Magazine

"Lewis Miller, known for his daring mash-ups of flower arrangements and street art, debuts his first book, showing the evolution of his one-of-a-kind work."
—Elle Decor

"Documents his nocturnal life as a street artist."
—AVENUE

"...takes readers petal by petal through the making of his ephemeral bursts of joy. . . . Flipping through the pages, which are filled with behind-the-scenes photographs and Miller's inspiration images, the time, care, and creativity that goes into making each bouquet comes into view."
—The Slowdown

"Flower Flash chronicles the ninety public works [Miller] has done. . . . There are heart-shaped arrangements placed against subway stations, roses covering a Mister Softee truck, sunflowers tucked into construction barricades. . . . On each page, Miller writes not only an explanation of the entry—the location, the date, and what types of blooms he used—but the emotion that drove it. . . . The result? An ode to not only the power of flowers, but, well, public art itself." 
—Vogue

"Comprised of collages, fan content and behind-the-scenes, Miller's new book evokes the same joy and optimism as his floral design." 
—Tory Daily

"Celebrate[s] the many facets of New York."
—New York Post

"The perfect gift for your flower obsessed friends or family members." 
—Habitually Chic

"Flowers have personalities, too, and you can enjoy them in all their glory in this book, documenting 90 of his inspiring installations."
—Garden Design Online

"A profusely illustrated book, Flower Flash brings joy to the reader, as did the actual magical flower enchantments on the streets of New York."
—Bellewood Gardens blog

"[A] book to inspire."
—FT How to Spend It

"Even for those unfamiliar with the so-called "Flower Bandit," the book's a beautiful roundup of some of Miller's most prominent floral installations."
—Apartment Therapy

"A new book celebrates the space where photography, street art, and floral design mingle and meet."
—Blind Magazine

"A treasure."
—Wendy Goodman

"A gorgeous monograph."
—Galerie

"[A] summer favorite."
—Magnolia Journal
The Monacelli Press, 9781580935852, 240pp.
Publication Date: November 2, 2021
About the Author
Lewis Miller was born and raised in California farm country amid olive, almond, and peach orchards, and developed a respect for nature early on. At eighteen, he moved to Seattle where he studied horticulture and landscape design, and after seven years of successfully pursuing his interests in design, flowers, and event planning, Miller moved to New York, where he worked for one of the city's top floral boutiques. In March of 2002, Miller's vision of a country life in a metropolitan setting inspired him to create Lewis Miller Design. Since striking out on his own, Miller has created stunning floral designs for the Met, the Whitney, Tiffany, Ferragamo, Versace, Viktor & Rolf, and Bergdorf Goodman. In 2016, Miller invented the Flower Flash—a guerilla flower installation—and has created more than 90 since.