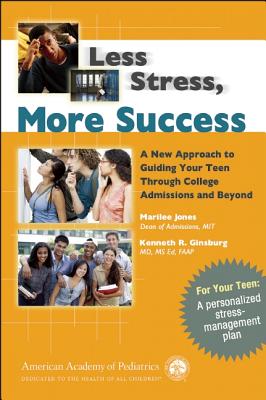 Less Stress, More Success: A New Approach to Guiding Your Teen Through College Admissions and Beyond (Paperback)
A New Approach to Guiding Your Teen Through College Admissions and Beyond
American Academy of Pediatrics, 9781581102307, 235pp.
Publication Date: September 1, 2006
* Individual store prices may vary.
or
Not Currently Available for Direct Purchase
Description
Is your teen stressing over college admittance? Are you? Cowritten by a former top college admissions dean and a leading pediatrician, this first-of-its-kind book delivers strategies for surviving the admissions process while strengthening parent-child relationships, managing the stress of applying to college, and building resilience to meet challenges today and in the future.
Less Stress, More Success is just what parents and teens need to thrive during this important rite of passage into adulthood.
For Parents
How to encourage true high achievement, rather than perfectionism
Important dos and don ts about the admissions process and how you can most effectively help your child
Why and when some forms of helping undermine your teenager's self-confidence and chances of admission
How to turn deadlines into opportunities to learn time-management and organization skills
How you can encourage positive strategies for handling stress and building resilience
For Teens
How to evaluate campus culture to find the right fit for you
Ways to manage your parents and your friends
Tips for the college interview
Letting your true, authentic self come through in your admissions essay
How your body handles stressand what you can do to feel better and stay healthy
Includes a Personalized Stress Management Plan for teens

About the Author
Marilee Jones, Former Dean of Admissions at Massachusetts Institute of Technology (MIT):

I have worked in college admissions for 25 years. I have seen many changes over time, but I have become alarmed at the pressures we adults are collectively placing on young people to make us all happy because I see how this drive to be admitted to college is affecting them so negatively. Wanting to become part of the solution, I have begun to speak out publicly about the effects of this pressure on kids. I am now involved in a growing movement to change the way higher education handles admissions so that students are seen, as I like to describe it, as human "beings" rather than human "doings." Dr Ken Ginsburg:

I have specialized in adolescent medicine for 19 years at The Children's Hospital of Philadelphia and at the University of Pennsylvania School of Medicine. My patients range from poor urban to upper-income suburban youth. I am very concerned about how young people's behaviors affect their health. It seems that every year I see more young people who are physically ill, anxious, and depressed-some of whom are turning to dangerous quick fixes, such as drugs and alcohol-as a result of constant pressure to prove they are good enough to get into college. But I've become increasingly convinced that children and teens can overcome a great deal of adversity and deal with significant stress if their resilience is given the opportunity to flourish.

Both of us are critically concerned about what's happening to young people and deeply committed to redirecting them from the dangerous direction in which they're headed. We share a mutual goal: to help parents support their children in becoming successful at school and in life. Truly successful young people know how to face challenges, manage stress, enjoy life, and reach their potential while remaining healthy and well balanced. Success doesn't mean being the best at everything or attending the "best" college. Success isn't determined by a fat acceptance letter from their first-choice college. Success in the college admissions process can be achieved by finding the most appropriate college for each individual student-the best match-and by using this opportunity to develop resilience, integrity, and confidence for a lifetime.
Advertisement