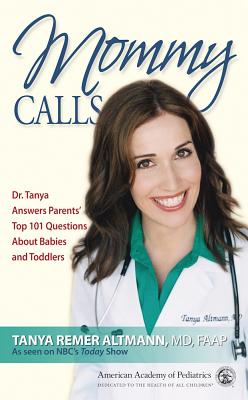 Mommy Calls (Paperback)
Dr. Tanya Answers Parents' Top 101 Questions about Babies and Toddlers
American Academy of Pediatrics, 9781581102956, 178pp.
Publication Date: October 1, 2008
* Individual store prices may vary.
Description
--------------------------------------------------------------------------------
The must-have resource for parents of children up to age three Small enough to fit in a diaper bag, but big on straight-forward, medically-sound advice delivered in the warm, funny and straightforward style that has made author Tanya Altmann, MD, FAAP, a favorite on NBC's Today show. Beginning in her residency and continuing throughout her years in practice, Dr. Altmann has kept track of the various questions asked by new and experienced parents. Mommy Calls represents what she considers to be the top 101 most common questions parents ask their pediatrician. Sample questions include: How can I be sure that my newborn is getting enough to eat
What should I do if I think my child swallowed a coin
Should I worry that my child has a fever after getting his shots today
She feels better - is it safe to play with other children now
Does his cut need stiches
And most importantly: How do I know when to call the pediatrician
Organized by category and age group, Mommy Calls is filled with clever tips and fun facts, along with Pediatric Points designed to quickly and clearly communicate important AAP recommendations in easy-to-understand language.
Topics include Basic Baby Care
Breastfeeding
Formula Feeding
Solids, Milk, and Other Feeding Issues
Pooping
Stomachaches and Vomiting
Fever
Illnesses
Skin
Ingestions, Injuries, and First Aid
Growing Up
Sleep

About the Author
Tanya Reymer Altmann: Tanya Remer Altmann, MD, FAAP, is a board-certified pediatrician in private practice; clinical instructor at Mattel Children's Hospital at the University of California, Los Angeles; and mother of 2 young children. She is editor in chief of The Wonder Years (Bantam and AAP) and serves on the editorial boards of the top-selling parenting book, Caring for Your Baby and Young Child: Birth to Age 5 (AAP), and Healthy Children magazine (AAP). Mommy Calls was created by Tanya Remer Altmann, MD, FAAP, and Michelle L. Shuffett, MD.
Praise For Mommy Calls: Dr. Tanya Answers Parents' Top 101 Questions about Babies and Toddlers…
"When you know you don't have to call 911 but are not sure if your child's rash, cold, sleep, or eating habits need attention, Dr. Tanya's friendly answers come to the rescue! This book is a must-have for every parent's diaper bag or nightstand!"  Jennifer Shu, MD, FAAP, coauthor, Food Fights and Heading Home with Your Newborn


"It goes without saying that the latest book by the American Academy of Pediatrics is packed with solid advice about caring for kids ages 0 to 3 . . .  the softcover is small enough to slip into a diaper bag--the next best thing to having your own pediatrician at hand 24/7."  Parenting Magazine
"Easy-to-read and organized by category,
Mommy Calls
answers the many questions that you have as a new parent, but may think are too trivial to call the pediatrician with. It's like having a pediatrician with you 24-7!"  Bridget Swinney, MS, RD, author, 
Baby Bites
and
Eating Expectantly
"Filled with nuggets of wisdom and a little humor in a breezy, easy-to-read format."  VenturaCountyStar.com
"Terrific, practical easier-to-navigate . . . [Dr. Tanya] knows her stuff." 
Nola Baby
magazine
"On-the-spot concise advice." 
Staten Island Parent
"Baby Sleep Myths -- Busted! When you have a baby in the house, it seems like everything revolves around his sleep -- and anyone and everyone will give you advice on it, from safety tips to how to get more of it. Read what Tanya Remer Altman, MD and author of
Mommy Calls
, has to say about some commonly held beliefs on sleep." www.TheBump.com (September 2011)
or
Not Currently Available for Direct Purchase