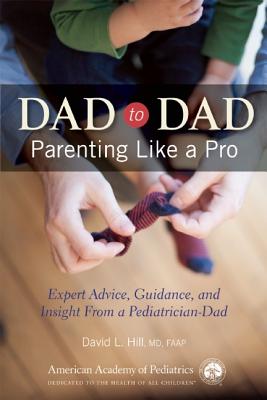 Dad to Dad (Paperback)
Parenting Like a Pro
American Academy of Pediatrics, 9781581106503, 373pp.
Publication Date: May 3, 2012
* Individual store prices may vary.
Description
All fathers have heard it before-having a baby really changes your life. And maybe they felt like David L. Hill, MD, FAAP, author of Dad to Dad: Parenting Like a Pro. Dr Hill is a dad himself and a pediatrician in practice. Inside this practical yet humorous book, dads and dads-to-be will find helpful information on topics such as

-Infant and child development

-Baby basics- crying, sleeping, pooping, and eating

-Everyday illnesses and what to look for - fevers, ear infections, colds, stomach bugs, and sore throats

-A guide to vaccines, when to get them, and just what they're for

-Sound advice to cope with toddlerhood and beyond

After reading Dad to Dad, fathers will feel more comfortable about fatherhood and have answers to day-to-day parenting issues at their fingertips.


About the Author
David L. Hill, MD, FAAP is a pediatrician, writer and father of 3 and believes humor is essential to surviving parenthood. Dr. Hill's medical roles include vice president of Cape Fear Pediatrics, adjunct assistant professor of pediatrics at the University of North Carolina School of Medicine, Executive Committee member of the North Carolina Pediatric Society, and program director of the AAP Council on Communications and Media.
Praise For Dad to Dad: Parenting Like a Pro…
"Becoming a new father can be terrifying, but Dad to Dad will make the journey seem not only manageable but actually kind of fun. . . . I wish I'd read this book before my children were born, more importantly, so do my wife and kids."  —Dan Tynan, contributing editor, Family Circle
"Dr. Hill's book is the perfect combination of expert pediatric advice mixed with the humbling uncertainty every new parent feels--regardless of whether or not they have an M and a D after their name. Moms: Sneak this onto your husband's nightstand!" —Missy Lapine, author, The Sneaky Chef
"A practical, no-nonsense kind of book for any current father or a soon to be dad...I wish that this book would have been out when I was a first time dad."  —Dad of Divas Review blog 
"Hill, a pediatrician and a father, has presented his amiable take on fatherhood, which has consistently offered a winning combination of humor and fact, in various segments on National Public Radio. This highly entertaining and informative book presents Hill at his best, but its wide range—from before birth to the toddler years—makes this volume for fathers an essential addition to such parenting books as What to Expect When You Are Expecting." —www.publishersweekly.com
"This book comes highly recommended."  —The Rookie Dad 
"Hill's excellent advice...puts this work at the top of the heap of essential parenting books."  —Publishers Weekly 
"I believe a society gradually moving toward full acknowledgement of fatherhood needs this book. Dads need to know what to expect just as moms do, but they also need to be addressed as dads."  —A Blogger and a Father blog