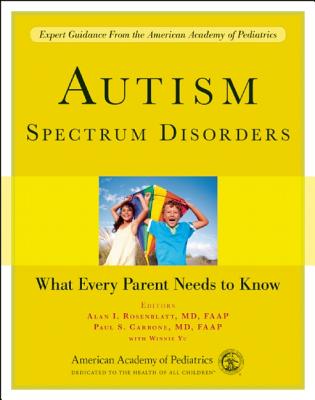 Autism Spectrum Disorders (Paperback)
What Every Parent Needs to Know
American Academy of Pediatrics, 9781581106510, 320pp.
Publication Date: September 26, 2012
* Individual store prices may vary.
Description
Autism Spectrum Disorders: What Every Parent Needs to Know is an invaluable resource for parents and caregivers of children who have been diagnosed with an autism spectrum disorder (ASD). Prepared under the editorial direction of 2 distinguished pediatricians who are autism experts—one of whom is also the parent of a son with autism—this book helps you understand how ASDs are defined and diagnosed and provides you with information on the most current types of behavioral and developmental therapies. It also helps parents understand what they can do to help promote a smooth transition from adolescence through the teen years and into adulthood.

Topics include
• Symptoms, frequency, and types of ASDs
• Accessing care
• Services in the community
• Tapping into educational resources
• Behavioral and developmental treatment
• The role of complementary and alternative medicine
• Screening tools
• Adolescence and beyond

You'll also find inspirational and supportive stories from other parents that will help you recognize that you're not alone on this journey. Autism Spectrum Disorders: What Every Parent Needs to Know provides you with tools to help navigate the sometimes challenging world of autism spectrum disorders.


About the Author
Alan I. Rosenblatt, MD, FAAP, is a neurodevelopmental pediatrician and teaches general pediatrics at the Ann & Robert H. Lurie Children's Hospital of Chicago. He has combined patient care, advocacy, and teaching throughout his career in a variety of clinical settings in the United States and abroad and has received awards for clinical excellence and for his advocacy efforts. He has held professional leadership positions at the local, state, and national levels, including on the Autism Expert Panel of the American Academy of Pediatrics. He lives in Chicago.
Praise For Autism Spectrum Disorders: What Every Parent Needs to Know…
"Covers a wide range of topics in a straight forward, common sense manner, such as diagnosis, different behavioral therapies, family stress issues, and lots of other vital information. Essential reading for parents of young children with autism." —Temple Grandin, author, Thinking in Pictures and The Way I See It
"Outstanding book and a tremendous resource for parents of autistic children. It is also a must-read for anyone else working to help children with autism reach their full potential." —Richard Besser, MD, FAAP, chief health and medical editor for ABC News
"Parents looking for a resource after an autism diagnosis will pull Autism Spectrum Disorders, What Every Parent Needs to Know off the shelf with great frequency. The AAP and Drs, Carbone and Rosenblatt cover complex issues in an accessible manner." —Patricia Wright, PhD, MPH, executive director of autism services for Easter Seals
"Instead of reading like a book, going through the pages of ASD: What Every Parent Needs to Know is more like having a casual conversation in your living room with an ASD wisdom person (or guru?)." —Chris Plauche, MD, FAAP, medical director of the Community Autism Network
"An essential guide for parents of children diagnosed with Autism Spectrum Disorder (ASD). As a Mom of a teenager with ASD, I wish a resource like this was available when my son was diagnosed in 2000."  —Sandy Tiahart, HRSA grant representative for the Autism Program of Illinois