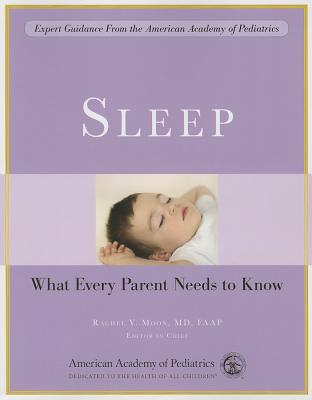 Sleep (Paperback)
What Every Parent Needs to Know
American Academy of Pediatrics, 9781581107814, 217pp.
Publication Date: September 3, 2013
* Individual store prices may vary.
Description
Sooner or later, most parents face challenges at bedtime. From infants and toddlers to school-aged kids and adolescents, sleep problems can affect everyone in the family. And no matter what a child's difficulty may be—getting to sleep, staying asleep, bed-wetting, fears, or nightmares—it's never too late to take steps to correct it.
Sleep: What Every Parent Needs to Know, 2nd Edition, helps parents and caregivers better understand sleep, answering questions and examining conflicting theories to help parents make the best decisions for their family.
Topics include

The functions of sleep and how much your child needs

Newborn sleep patterns

Sleep theories and strategies for success

Bedtime routines and rituals

Coping with fears and nightmares

Tips for solving common problems
About the Author
Rachel Y. Moon, MD, FAAP, is a member of the AAP as well as an internationally recognized expert in sudden infant death syndrome and safe sleep. She serves as the director of academic development for the Goldberg Center for Community Pediatric Health at Children's National Medical Center and is also professor of pediatrics at Geroge Washington University School of Medicine and Health Sciences.