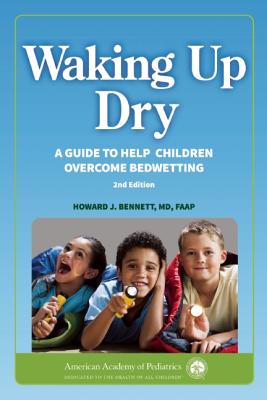 Waking up Dry (Paperback)
A Guide to Help Children Overcome Bedwetting
American Academy of Pediatrics, 9781581109061, 250pp.
Publication Date: May 5, 2015
* Individual store prices may vary.
Description
This positive, interactive plan for overcoming bedwetting is geared to parents of kids ages 6-13. Author Dr. Howard Bennett is both a pediatrician and a parent, and he encourages parents to read the book together with their children and develop a plan that includes behavior management techniques, calendars, contracts, and bedwetting alarms.
About the Author
Dr. Howard Bennett is a practicing pediatrician in private practice and a clinical professor of pediatrics at The George Washington University School of Medicine. He has been regularly listed as a "Top Doctor" in Washingtonian magazine, appeared on national tv shows including NBC Nightly News, World News Tonight, and CNN. His picture book, "Lions Aren't Scared of Shots," was featured in a story about pain control on the Today Show. He is a contributor for GreadDad.com, Jack and Jill magazine, and the Ever Wondered column (in KidsPost in the Washington Post). He has published over 100 articles and satires in medical journals.