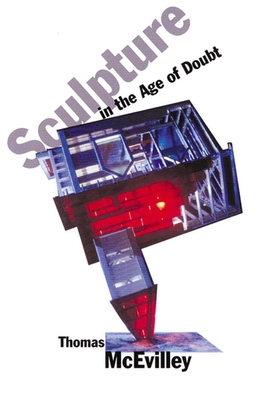 Sculpture in the Age of Doubt
Paperback

* Individual store prices may vary.
Description
Framed in a lucid discussion of the intellectual issues surrounding the postmodern movement, the essays in this book re-examine the course of twentieth-century art through the work of twenty-five major sculptors. McEvilley masterfully traces the evolution of modern sculpture from the readymades of Marcel Duchamp to the anti-painting statements of the 1960s to the spiritualism and conceptualism of the 1980s and 1990s. This is a groundbreaking work in the field of art criticism and a fundamental text for anyone interested in the history of current art and culture.

Allworth Press, an imprint of Skyhorse Publishing, publishes a broad range of books on the visual and performing arts, with emphasis on the business of art. Our titles cover subjects such as graphic design, theater, branding, fine art, photography, interior design, writing, acting, film, how to start careers, business and legal forms, business practices, and more. While we don't aspire to publish a New York Times bestseller or a national bestseller, we are deeply committed to quality books that help creative professionals succeed and thrive. We often publish in areas overlooked by other publishers and welcome the author whose expertise can help our audience of readers.
Allworth, 9781581150230, 448pp.
Publication Date: August 1, 1999
About the Author
Thomas McEvilley is Distinguished Lecturer in Art History at Rice University, where he has been on the faculty since 1969. The author holds a Ph.D. in classical philology. In addition to Greek and Latin, he has studied Sanskrit and has taught numerous courses in Greek and Indian culture, history of religion and philosophy, and art. He has published countless scholarly monographs and articles in various journals on early Greek poetry, philosophy, and religion as well as on contemporary art and culture. He has been a visiting professor at Yale University and the School of the Art Institute of Chicago, among others. He was the recipient of a Fulbright Grant in 1993 and has been awarded an NEA critic's grant and the Frank Jewett Mather Award for Distinction in Art Criticism by the College Art Association. He lives in New York City.

McEvilley has been a contributing editor of "Artforum" and has published hundreds of articles, catalogue essays, and reviews in the field of contemporary art, as well as monographs on Yves Klein, Jannis Kounellis, and Pat Steir. His recent books include "Art and Discontent," "Art and Otherness," and "The Exile's Return: Toward a Redefinition of Painting for the Post-Modern Era."
or
Not Currently Available for Direct Purchase