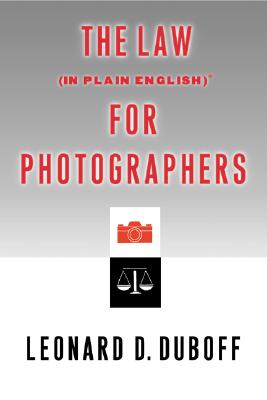 The Law (in Plain English) for Photographers
Paperback

* Individual store prices may vary.
Other Editions of This Title:
Paperback (1/14/2020)
Paperback (1/5/1995)
Description
The photographer's definitive business and legal resource is now completely updated and expanded. In this valuable guide, arts attorney Leonard DuBoff takes you step by step though all the legal aspects of the photography business. Here is expert advice for everything from contracts to trademarks, including government licenses, taxes, censorship, the rights of privacy and publicity, leases and insurance, estate planning, and more. This latest, up-to-the minute edition pays special attention to the legal challenges that have been brought about by digital cameras and the Internet. With the important legal advice found in this guide, you'll save thousands of dollars in attorney fees–and find expert legal assistance when you need it the most. " . . . a complete discussion of the legal and business issues of everyday concern to photographers."-- PhotoSource International.
Allworth Press, 9781581152258, 224pp.
Publication Date: May 1, 2002
About the Author
Leonard D. DuBoff was born October 3, 1941, in Brooklyn, New York. Today, he is a business lawyer in Portland, Oregon, specializing in intellectual property and corporate law. He is admitted to practice law in New York, Oregon, in the New York and Oregon federal courts, the Second and Ninth Circuit Court of Appeals, and before the United States Supreme Count. His firm, DuBoff & Ross, represents clients on business and intellectual property matters throughout the United States, Canada, and the United Kingdom.

He was a professor of law at Lewis & Clark Law School for twenty-three years, specializing in corporations, agency partnership, art law, and high-tech law. As the chair and program director for the Association of American Law School section on Art Law, he presented numerous programs, on licensing, intellectual property, copyright protection, and related subjects. His classes on corporations and high-tech law covered, among other things, mergers and acquisitions of businesses. As a member of the Special Task Force appointed by the Oregon State Bar and the Corporations Division, he was involved in drafting the Oregon Business Corporation Code, as well as the Oregon Nonprofit Corporation Code. The Task Force continues to monitor revisions and updates to those laws.

DuBoff is one of the world's leading authorities on art law. He has pioneered the field, written extensively on the subject, and lectured all over the world. His two-volume text entitled "The Desk Book of Art Law "is considered the most authoritative and important book on the subject. It is frequently referred to by judges, lawyers, legal commentators, and others who are interested in finding out about this important field of law, and it has also been adopted by several law schools as the basis for their courses on art law. He has authored numerous other books including "Art Law in a Nutshell, The Book Publisher's Legal Guide, and a (Law in Plain English)(R) "series, which includes books for small businesses, writers, photographers, craftspeople, high-tech entrepreneurs and gallery owners. He is also the author of three encyclopedias, one for fine artists, one for the performing arts, and one for craftspeople.

He has written numerous scholarly articles on copyright law, trademark law, and corporate law, which have appeared in the "Cardoza Arts and Entertainment Law Journal, the Columbia University Art Law Journal, the Hastings COMMENT Law Journal, the DePaul University Journal of Corporation Law," and in numerous state bar journals. His books and articles have been frequently cited in cases.

As a leading figure in the field of art law, DuBoff has testified before Congress at the request of several prominent legislators on art-related legislation. His recommendations on the Visual Artists Rights Act of 1990 were adopted in part by Congress, and several of his law journal articles have become part of the "Congressional Record."

He has lectured to attorneys, conducting several continuing legal education programs, and to non-lawyers on a host of subjects including music copyrights.
or
Not Currently Available for Direct Purchase