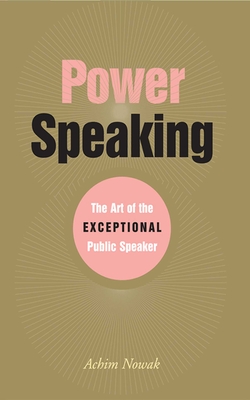 Power Speaking
The Art of the Exceptional Public Speaker
Paperback

* Individual store prices may vary.
Description
Integrating key concepts and ideas about public speaking into a clear, step-by-step, transformational method, Power Speaking teaches emerging speakers how to grow the necessary skills and unleash their inner power. Divided into proficiency levels-mastering the basics, making the connection, and polishing the core-this guide allows speakers to conquer public speaking systematically. Readers start with the use of voice and body movements, then move on to learn the use of personal stories, intent listening, and positioning or reframing a topic.

Allworth Press, an imprint of Skyhorse Publishing, publishes a broad range of books on the visual and performing arts, with emphasis on the business of art. Our titles cover subjects such as graphic design, theater, branding, fine art, photography, interior design, writing, acting, film, how to start careers, business and legal forms, business practices, and more. While we don't aspire to publish a New York Times bestseller or a national bestseller, we are deeply committed to quality books that help creative professionals succeed and thrive. We often publish in areas overlooked by other publishers and welcome the author whose expertise can help our audience of readers.
Allworth, 9781581153613, 256pp.
Publication Date: August 1, 2004
About the Author
Achim Nowak is a performance coach and author who has inspired Fortune 500 executives around the globe. Influens, the international training and coaching firm he founded in Miami, has guided thousands of leaders from organizations such as Dover Corporation, Genzyme, and HSBC Bank to better connect and be more influential. His first book, Power Speaking (Allworth Press), remains an indispensable reference tool for professionals at every organizational level. Nowak's work has been featured on 60 Minutes, CNN, NPR, and in the Miami Herald.