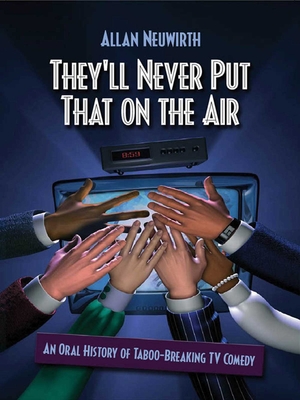 They'll Never Put That on the Air (Paperback)
The New Age of TV Comedy
Allworth, 9781581154177, 272pp.
Publication Date: February 1, 2006
* Individual store prices may vary.
Description
In the 1950s, Lucille Ball couldn't even say the word "pregnant" on TV. But by the 1990s, Carrie Bradshaw and her posse could say everything there is to say about sex—and demonstrate most of it. How have broadcast standards changed from the dawn of television till today? Through interviews with the creators of landmark shows, author Allan Neuwirth traces that history, revealing how the upheaval of the 1960s led to edgier fare such as The Smothers Brothers Comedy Hour; how counterculture baby boomers made Saturday Night Live-style satire possible; how stand-up comedians changed the sitcom landscape; how UPN and the WB raised eyebrows with comedies aimed at minorities; and much more. In this age of FCC crackdowns, They'll Never Put That on the Air is as timely as it is entertaining and informative. • Firsthand accounts of life in the TV trenches from producers and writers • Handy "genealogy chart" traces TV comedy from the 1950s to today • Insider author is an award-winning producer, director, and writer of TV comedy

Allworth Press, an imprint of Skyhorse Publishing, publishes a broad range of books on the visual and performing arts, with emphasis on the business of art. Our titles cover subjects such as graphic design, theater, branding, fine art, photography, interior design, writing, acting, film, how to start careers, business and legal forms, business practices, and more. While we don't aspire to publish a New York Times bestseller or a national bestseller, we are deeply committed to quality books that help creative professionals succeed and thrive. We often publish in areas overlooked by other publishers and welcome the author whose expertise can help our audience of readers.
About the Author
Allan Neuwirth is a producer, director, and comedy writer of TV shows, comic books, animation, and music videos. In addition to his award-winning work for Nickelodeon, Cartoon Network, and Fox Family, his syndicated comic strip, Chelsea Boys, appears bi-weekly in dozens of publications across the US, Canada, and the UK. The author of Makini Toons (Allworth Press), he lives in New York City.
or
Not Currently Available for Direct Purchase