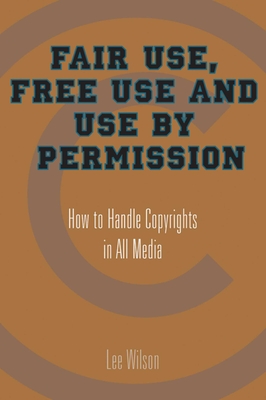 Fair Use, Free Use, and Use by Permission (Paperback)
How to Handle Copyrights in All Media
Allworth Press, 9781581154320, 247pp.
Publication Date: November 1, 2005
* Individual store prices may vary.
Description
Who needs this book? Only every writer, photographer, illustrator, designer, businessperson, musician, songwriter, filmmaker, teacher, researcher, advertiser, and Web designer in the United States. How to find copyright owners, request permissions, and keep records? Easy-reference copyright duration chart, form agreements, form letters, resources, and checklists; Permissions--they're enough to make anyone crazy. Thank heavens there's Fair Use, Free Use and Use by Permission, the one-volume reference that is sure to save the sanity of thousands of grateful readers. Writers, photographers, illustrators, designers, teachers, researchers--anyone involved with intellectual property needs this practical, straightforward guide to copyright law. Find out what constitutes fair use, how to get permissions, and how to protect creative work, plus learn about copyright infringement, public domain, and much more. Illuminating true-life stories enliven the ins and outs of copyright law, and helpful charts, resource lists, and forms make the permissions experience vastly more manageable. Let a respected intellectual property lawyer show the way through the copyright maze Allworth Press, an imprint of Skyhorse Publishing, publishes a broad range of books on the visual and performing arts, with emphasis on the business of art. Our titles cover subjects such as graphic design, theater, branding, fine art, photography, interior design, writing, acting, film, how to start careers, business and legal forms, business practices, and more. While we don't aspire to publish a New York Times bestseller or a national bestseller, we are deeply committed to quality books that help creative professionals succeed and thrive. We often publish in areas overlooked by other publishers and welcome the author whose expertise can help our audience of readers.
About the Author
Lee Wilson is a Nashville writer and lawyer. In private practice since 1984, she writes on intellectual-property law topics for a variety of publications, has served on the boards of several arts organizations, and is a frequent speaker to arts and academic groups. She is the author of six books on intellectual-property law, all published by Allworth Press.