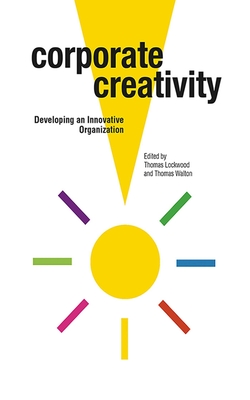 Corporate Creativity
Developing an Innovative Organization
Paperback

* Individual store prices may vary.
Description
Corporate Creativity is the ultimate guide for executives and managers looking to increase creativity and innovation in their companies. This anthology of provocative essays, drawn from the pages of Design Management Review and Design Management Journal, explores personal, team, and organizational creativity, and it is packed with insights from the most respected names in the industry: Jeffrey Mauzy, Robert Rassmussen, Leonard Glick, Gerald Nadler, Stefano Marzano, and many others. These experts reveal how leading companies foster a creative culture and maximize talent resources. Essays explore managing creative staff, improving creative abilities of employees, taking risks, designing teams, integrating design and corporate philosophy into the management process, branding, and much more. Corporate Creativity is a must-have for anyone working to maximize creative potential in the workplace.

Allworth Press, an imprint of Skyhorse Publishing, publishes a broad range of books on the visual and performing arts, with emphasis on the business of art. Our titles cover subjects such as graphic design, theater, branding, fine art, photography, interior design, writing, acting, film, how to start careers, business and legal forms, business practices, and more. While we don't aspire to publish a New York Times bestseller or a national bestseller, we are deeply committed to quality books that help creative professionals succeed and thrive. We often publish in areas overlooked by other publishers and welcome the author whose expertise can help our audience of readers.
Praise For Corporate Creativity: Developing an Innovative Organization…
Praise for Corporate Creativity

"An insightful book that addresses a critical need of every business today: leveraging creativity. This is an outstanding collection of thinking about not only the importance of right-brain thinking, but how to develop, nurture, and manage models for sustained innovation."
–Daniel H. Pink, author of A Whole New Mind

"Dipping into DMI's rich archives of material from business and design thought leaders, Lockwood and Walton share insights and advice on creativity in organizations. Each of the nineteen individual pieces describes an essential ingredient in the mix, and together they create the recipe for a culture of innovation."
–Tom Kelley, General Manager, IDEO, and author of The Ten Faces of Innovation and The Art of Innovation

"Although design is still about a magic spark of creativity (Create), it can no longer be a "one-man show" (Collaborate), and it must be embedded into the corporate culture as a way to foster sustainable innovation of products and processes (Innovate). This book is a comprehensive collection of complementary perspectives on these topics. Brilliant. Definitely a must read!"
–Mauro Porcini, Head of Global Product Design, C&O, 3M Company
Allworth, 9781581156560, 256pp.
Publication Date: June 9, 2009
About the Author
Thomas Lockwood is president of The Design Management Institute and an international authority on brand and design management. He lives in Boston. Thomas Walton is editor of The Design Management Institute's Design Management Review. A former professor of architecture, he serves as a design leader for the Public Buildings Service at the U.S. General Services Administration.