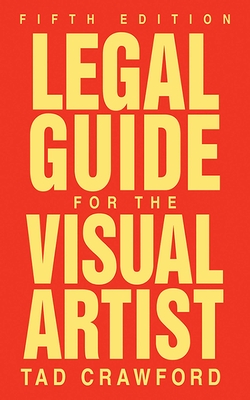 Legal Guide for the Visual Artist
Paperback

* Individual store prices may vary.
Description
This classic guide for artists is completely revised and updated to provide an in-depth view of the legal issues facing the visual artist today and provides practical legal guidance for any visual artist involved with creative work. Among the many new topics covered in this comprehensive guide are: detailed coverage of the myriad developments in copyright (including online copyright registration procedures and use of art on the Internet); changes in laws protecting artists in artist-gallery relationships are explained in depth; scope of First Amendment protections for graffiti art and the sale of art in public spaces; detailed as well as new cases dealing with art and privacy; and a model contract for Web site design and much more. The book also covers copyrights, moral rights, contracts, licensing, sales, special risks and protections for art and artists, book publishing, video and multimedia works, leases, taxation, estate planning, museums, collecting, grants, and how to find the best professional advisers and attorneys. In addition, the book suggests basic strategies for negotiation, gives information to help with further action, contains many sample legal forms and contracts, and shows how to locate artists' groups and Volunteer Lawyers for the Arts organizations.

Allworth Press, an imprint of Skyhorse Publishing, publishes a broad range of books on the visual and performing arts, with emphasis on the business of art. Our titles cover subjects such as graphic design, theater, branding, fine art, photography, interior design, writing, acting, film, how to start careers, business and legal forms, business practices, and more. While we don't aspire to publish a New York Times bestseller or a national bestseller, we are deeply committed to quality books that help creative professionals succeed and thrive. We often publish in areas overlooked by other publishers and welcome the author whose expertise can help our audience of readers.
Praise For Legal Guide for the Visual Artist…
"This is an indispensable handbook for the visual art community."--(Starred review) Library Journal

"Legal Guide for the Visual Artist by Tad Crawford arms artists with a broad general knowledge of most legal issues they're likely to face, and includes raft of legal forms that should address many foreseeable legal needs. Starting with chapters on traditional intellectual property—copyright, trademarks, trade dress, and some patents—Crawford delves into more esoteric aspect of intellectual property such as moral rights and the relatively recent Visual Artists Rights Act ("VARA"). The author balances these more personal and insightful historical portions with current issues facing the modern artist, such as the increasing likelihood of an artist being both artist and producer and the pitfalls that come with this dual role. Multimedia and the breadth of what that term means is also touched upon in the book. Legal Guide for the Visual Artist deserves a place in your library if you do any type of artistic work at all."—Logan Lo, Esq., The New York Journal of Books
Allworth, 9781581157420, 304pp.
Publication Date: September 14, 2010
About the Author
Tad Crawford grew up in the artists' colony of Woodstock, New York. He is the author of many nonfiction books and his writing has appeared in venues such as Art in America, the Café Irreal, Confrontation, Communication Arts, Family Circle, Glamour, Guernica, the Nation, and Writer's Digest. The founder and publisher of Allworth Press, he lives in New York City.