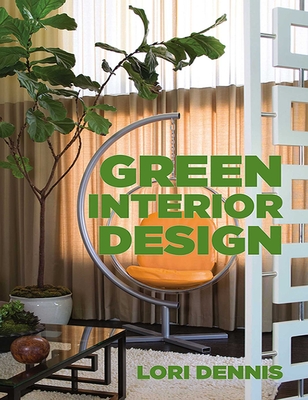 Green Interior Design
Paperback

* Individual store prices may vary.
Description
Award-winning designer and author Lori Dennis proves interior design can be both stylish and environmentally sustainable in this easy-to-use, entertaining guide. Dennis discusses every aspect of interior design—furniture and accessories, window treatments, fabrics, surface materials, appliances, plants, and more—from a green perspective in terms of reducing waste and pollution and turning a home into a healthy, comfortable environment. Readers will learn how to: - use sustainable materials like bamboo, cork, and recycled glass to enhance interiors - search thrift shops and antique stores for vintage hidden treasures - find the best vendors for purchasing green products - use plants and locally cut flowers to improve indoor air quality and brighten up rooms - replace lawns with indigenous plants and edible gardens - keep rooms clean with effective and nontoxic products - use energy efficient lighting and maximize natural light - apply for different types of green certification. Packed with over 100 color photographs, lists of the best green vendors, and profiles of leading green designers, this book is a thorough guide for anyone who wants to create beautiful interiors while lessening the waste and pollution generated by the building industry.

Allworth Press, an imprint of Skyhorse Publishing, publishes a broad range of books on the visual and performing arts, with emphasis on the business of art. Our titles cover subjects such as graphic design, theater, branding, fine art, photography, interior design, writing, acting, film, how to start careers, business and legal forms, business practices, and more. While we don't aspire to publish a New York Times bestseller or a national bestseller, we are deeply committed to quality books that help creative professionals succeed and thrive. We often publish in areas overlooked by other publishers and welcome the author whose expertise can help our audience of readers.
Praise For Green Interior Design…
"Interior designer Dennis provides a wealth of information covering every aspect of interiors—e.g., lighting, floors, plumbing, and even cleaning products—and outlines the available choices with detailed explanations of how each benefits the environment ... Plentiful and practical advice." --Library Journal

"Lori Dennis gives us a comprehensive primer and tool-book for green living. This must-have volume is filled with encyclopedic details, checklists, and source guides—everything one needs to know in order to create eco-friendly interiors. It's the new go-to for sustainable interior design principles and practices."—Pamela Jaccarino, Editor in Chief, Luxe Interiors + Design
 
"This book is packed with easy-to-understand, practical information and resources that many interior designers have been desperately seeking. Lori Dennis succinctly addresses the challenges green interior designers face and shares her solutions and sources, further solidifying her position as a rising star in the sustainable design movement. ASID is proud to count her among our 36,000 members."—Thom Banks, Hon. FASID, ASID Deputy Executive Director
 
"Lori Dennis is a trailblazer, having specialized in green interior design for over a decade. She's a master at the efficient use of space and has all the resources and trade secrets you need to make any home more environmentally friendly, visually appealing, and comfortable."—Phyllis Goldstein, Editorial Director, Small Room Decorating, Cottage Style, and Romantic Country
 
"Lori Dennis has transformed green design from something historically mundane into something sophisticated and world class. She shows that you can have beauty that is also sustainable."—Thomas Lavin, President, Thomas Lavin Showroom
 
"Not only is Lori Dennis a brilliant designer, in Green Interior Design she proves time and time again that green is both good and glamorous."—Ronda Carman, Founder/Editor, All the Best blog
 
"Lori Dennis offers a thoughtful look at the shades of green that go into living responsibly, comfortably, and beautifully at home. An essential introduction to sustainable domestic design."—Jordan Kushins, Assistant Editor, Dwell magazine
Allworth, 9781581157451, 160pp.
Publication Date: November 23, 2010
About the Author
Lori Dennis is the founder and principal of Lori Dennis, Inc., a firm specializing in green, sustainable interior design since 1998. Her work has won numerous green awards and has been featured in a wide variety of publications around the world, from Woman's Day Magazine and Coastal Living to the Los Angeles Times and the New York Times. She has also been featured as a guest expert on HGTV, Food Network, Oxygen Network, NBC, and XM radio and has lectured on green interior design at a number of universities. She lives in Los Angeles.