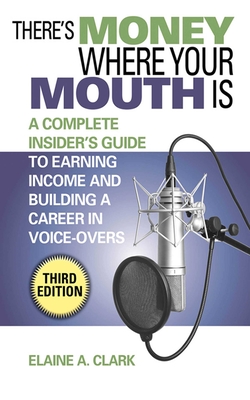 There's Money Where Your Mouth Is
A Complete Insider's Guide to Earning Income and Building a Career in Voice-Overs
Paperback

* Individual store prices may vary.
Description
Voices are increasingly in demand for commercials, cartoon characters, announcements, and other spots. This outstanding handbook explains how to launch a career and ?nd work. Along with sample commercials and script copy, the author gives advice on vocal exercises, self-promotion, and business matters. Chapters include: getting started, voice-over aerobics, copy basics, melody and tempo, layering techniques, believing what you say, commercial and stylized characters, corporate narration, animation, video games and toys, getting an agent, marketing your talent, and staying on top of the business.

This expanded edition features new tips on making a demo CD, vocal modulation and breath techniques, advanced copy-reading strategies, and a section on how copywriters see the job of the voice artists for whom they write. If you've ever been interested in voice-over acting, you need this book!
Allworth, 9781581158786, 304pp.
Publication Date: December 1, 2011
About the Author
Elaine A. Clark is the author of There's Money Where Your Mouth Is, now in its fourth edition. She is the creator of two voice and diction apps, Activate Your Voice and Adding Melody to Your Voice, both of which are available at voiceoneapps.com and are used by many to strength their voice and add melody and storytelling to their speech. The owner of VoiceOne.me in San Francisco, she continues to teach at the school she founded, direct an assortment of audio projects, and coach business executives, newscasters, podcasters, and regular folks. As an actor, performance coach, voice-over instructor, and recording engineer for nearly four decades, she has launched thousands of voice-over careers. She lives in San Francisco, California.
or
Not Currently Available for Direct Purchase