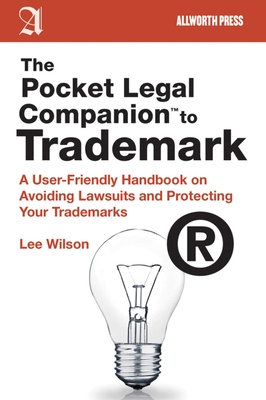 The Pocket Legal Companion to Trademark
A User-Friendly Handbook on Avoiding Lawsuits and Protecting Your Trademarks (Pocket Legal Companions)
Paperback

* Individual store prices may vary.
Description
This book, a primer for the entrepreneur, is filled with valuable and ready-to-use information on using trademarks to avoid lawsuits and protect your ideas. Easy to follow and affordable, this helpful guide will teach you how to manage your trademark to maximize profits, avoid problems, and coexist with other marketers while you market your own product. It also provides answers to your questions about when to call a lawyer and how to avoid needing one. Finally, it offers a full briefing on the problems associated with selecting protectable trademarks that do not infringe established marks, what happens if trademarks are selected carelessly, and what to do if someone infringes your trademark. This handbook will save readers expensive lawyers' fees, and will make an invaluable addition to the library of anyone who markets a product or service.
Allworth, 9781581159097, 320pp.
Publication Date: August 1, 2012
About the Author
Lee Wilson is a Nashville intellectual-property lawyer and writer. In practice since 1984, she has written six books on intellectual-property law topics (some in several editions), all published by Allworth Press. Her books include The Copyright Guide: A Friendly Guide to Protecting and Profiting from Copyrights; The Trademark Guide: Friendly Guide to Protecting and Profiting from Trademarks; and Fair Use, Free Use, and Use by Permission: Using and Licensing Copyrights in All Media. She has written for the Vanderbilt Journal of Entertainment Law and Practice, has published numerous articles on intellectual-property law for Communication Arts magazine and the Publishers Marketing Association Independent, has served on the boards of numerous arts organizations, and is a frequent speaker to arts and academic groups. She lives and works in the woods north of Nashville, Tennessee.
or
Not Currently Available for Direct Purchase