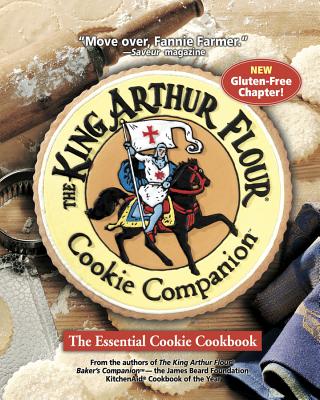 The King Arthur Flour Cookie Companion (Paperback)
The Essential Cookie Cookbook (King Arthur Flour Cookbooks)
Countryman Press, 9781581572209, 552pp.
Publication Date: October 7, 2013
Other Editions of This Title:
Hardcover (11/17/2004)
* Individual store prices may vary.
Description
Drawing on the same commitment to the home-baking community that has earned them hundreds of thousands of dedicated followers, the bakers at King Arthur Flour guide you through hundreds of recipes, revealing the secrets to making your own mouthwatering cookies for any occasion.
The perfect chocolate chip cookie, the versatile sugar cookie, the best chewy brownie—they're all here, plus many more old favorites and many others you may not know. And all created and thoroughly tested by the never-fail team of bakers at King Arthur Flour.
You'll find a thorough overview of the essential ingredients of cookie baking, along with step-by-step instructions and how-to drawings of techniques that will have you creating great-looking, incredible-tasting cookies in no time. You'll also learn tips on substitutions and variations; measuring and weighing ingredients; instructions for making icings, fillings, and dips; and even advice on high-altitude baking. Recipes are enhanced with sidebars full of hints, shortcuts, troubleshooting advice, and recipe lore. Also, each recipe is accompanied by a complete nutritional analysis, and such baking terms as "creaming," "docking," and "folding" are fully explained. Finally, a comprehensive, illustrated chapter describes the key baking tools you'll want to have on hand.
About the Author
King Arthur Flour is the largest single educator of bakers in the world. Employee owned since 1996, the company conducts a yearly national baking class tour that has provided free baking classes to many thousands of bakers across the U.S. The company also publishes The Baking Sheet, a newsletter of recipes and baking information. The Baker's Catalogue, a wholly owned subsidiary, sponsors an online baking forum, The Baking Circle, on its parent company's Web site. The company's 2003 release, The King Arthur Flour Baker's Companion, was selected as one of the best cookbooks of the year by Food & Wine, People, and many other national publications. Other books by King Arthur Flour include The Original King Arthur Flour Cookbook, The King Arthur Flour Cookie Companion, and King Arthur Flour Whole Grain Baking. All the bakers at King Arthur Flour work from their 12-sided post-and-beam headquarters in Norwich , Vermont.