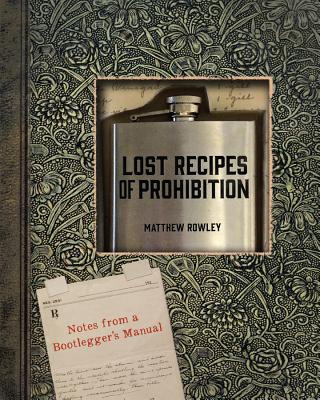 Lost Recipes of Prohibition
Notes from a Bootlegger's Manual
Hardcover

* Individual store prices may vary.
Other Editions of This Title:
Paperback (6/6/2017)
Description
Prompted by a found notebook of illicit booze recipes, here are more than 100 secret and forgotten formulas for cordials, bitters, spirits, and cocktails, gorgeously illustrated and explained.
American Prohibition was far from watertight. If you knew the right people, or the right place to be, you could get a drink—most likely a variation of the real thing, made by blending smuggled, industrial alcohol or homemade moonshines with extracts, herbs, and oils to imitate the aroma and taste of familiar spirits. Most of the illegal recipes were written out by hand and secretly shared. The "lost recipes" in this book come from one such compilation, a journal hidden within an antique book of poetry, with 300 entries on making liquors, cordials, absinthe, bitters, and wine.  
Lost Recipes of Prohibition features more than 70 pages from this notebook, with explanations and descriptions for real and faked spirits. Readers will also find historic and modern cocktails from some of today's leading bartenders, including rum shrubs, DIY summer cups, sugar-frosted "ice" cordials, 19th- and 21st-century cinnamon whiskeys, homemade creme de menthe, absinthe-spiked cocktail onions, caramel lemonade, and more. 
Praise For Lost Recipes of Prohibition: Notes from a Bootlegger's Manual…
Open Lost Recipes of Prohibition to any page and you'll be drawn into the mysterious world of a long-vanished physician-turned-whiskey peddler and his illicit and even dangerous recipes. Matthew Rowley takes us through the handwritten notebook, exploring its historical context, elucidating its odd ingredients (talcum powder?), and even sampling the recipes. This is a must-have for anyone who enjoys a good cocktail—or the discovery of buried treasure.

— Amy Stewart, author of The Drunken Botanist

If ever there was a case to be made for kismet, it is in
your hands. Somehow this mystery-tinged, camouflaged doctor's notebook found
its way to Matthew Rowley. The utility of what's here is no trifle, but only
Matt could have entertainingly illuminated not just the artifact, but all its
implications . . . Buy this, you will not be bored.
— Max Watman, author of Chasing the White Dog

Nobody is more familiar with the dark caverns of drinks history than Matthew Rowley, and Lost Recipes of Prohibition is an eye-opening exploration of the era, turning up many rich rewards. 

— Paul Clarke, author of The Cocktail Chronicles

Matthew Rowley found his way into Prohibition's crypt,
returned with a notebook scrawled with crabbed hieroglyphics, and took the time
to translate it for those curious about how one drank when one couldn't drink.
Fascinating and revealing! 
— Wayne Curtis, author of And a Bottle of Rum

In Lost Recipes of Prohibition, Matthew Rowley unearths recipes of a bootlegging physician living in Harlem. Rowley then translates the good doctor's formulary into recipes that modern bartenders and cocktail enthusiasts can use.

— Michael Dietsch, author of Shrubs

Few people on earth have the authority to unveil such a
treasure trove as Matthew Rowley does. Immerse yourself in the epic journey of
cocktail archaeology contained within these pages. 
— Jeffrey Morgenthaler, author of The Bar Book

Rowley takes the gift of a mysterious notebook and runs
with it, taking us along for an entertaining and fascinating ramble.
— Dave Stolte, author of Home Bar Basics (and Not-So-Basics)
Countryman Press, 9781581572650, 256pp.
Publication Date: October 28, 2015
About the Author
Matthew Rowley is a former museum curator who specializes in folk distilling and the manufacture and distribution of illicit spirits. His work has appeared in Whisky Advocate, Distiller, and other publications. The author of Moonshine!, he lives in California.
Coverage from NPR