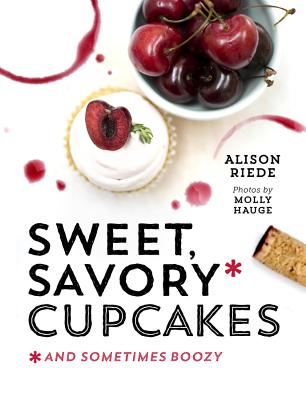 Sweet, Savory, and Sometimes Boozy Cupcakes (Hardcover)
Countryman Press, 9781581572971, 208pp.
Publication Date: June 18, 2015
* Individual store prices may vary.
Description
Europeans serve savory cheese after a nice meal. Americans prefer something sweet and sugary. Alison Riede manages to marry the two concepts with her wildly original and surprisingly delicious cupcakes. She starts with the flavors and winds up with something that defies expectation. Recipes for salty, nutty, spicy, savory, tart, fruity, and chocolaty desserts include:
Lemon Olive Oil Cupcakes with Sage and Sea Salt Buttercream
Rosemary Parmesan Cupcakes with Lemon Cream Cheese Frosting and Toasted Almonds
Cucumber Mint Cupcakes with Lime Buttercream and Fresh Mint
Banana Cupcakes with Mango Filling and Banana Rum Frosting
Chocolate Pinot Noir Cupcakes with Strawberry Filling and Dark Chocolate Pinot Buttercream
One taste and it will be clear why Cupcake Wars handed her the crown. Her recipes are simple and straightforward, illustrated with mouthwatering photographs. This is a truly original winner of a cookbook.