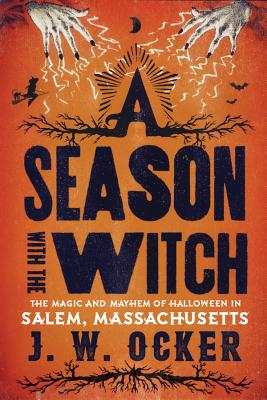 A Season with the Witch
The Magic and Mayhem of Halloween in Salem, Massachusetts
Paperback

* Individual store prices may vary.
Description
Edgar Award-winning travel writer spends an autumn living in one of America's spookiest tourist destinations: Salem, Massachusetts
Salem, Massachusetts, may be the strangest city on the planet. A single event in its 400 years of history—the Salem Witch Trials of 1692—transformed it into the Capital of Creepy in America. But Salem is a seasonal town—and its season happens to be Halloween. Every October, this small city of 40,000 swells to close to half a million as witches, goblins, ghouls, and ghosts (and their admirers) descend on Essex Street. For the fall of 2015, occult enthusiast and Edgar Award–winning writer J.W. Ocker moved his family of four to downtown Salem to experience firsthand a season with the witch, visiting all of its historical sites and macabre attractions. In between, he interviews its leaders and citizens, its entrepreneurs and visitors, its street performers and Wiccans, its psychics and critics, creating a picture of this unique place and the people who revel in, or merely weather, its witchiness.
Praise For A Season with the Witch: The Magic and Mayhem of Halloween in Salem, Massachusetts…
[A] lively chronicle—part travel guide, part history lesson…Ocker moves easily among the archivists, historians, and performers he interviews, and he describes the carnival atmosphere that descends upon "Witch City" with enthusiasm and vividness.
— Publisher's Weekly (starred review)

What better place to celebrate Halloween than Salem, Massachusetts? Festivities begin with a parade on October 1 and end with Halloween parties and costumed celebrations on October 31. In between, Ocker, a travel writer with an Edgar Award, and family stay the entire month, exploring Salem's many attractions. Although the witch trials in 1692 only lasted for nine months, Salem has been branded "Witch City," overshadowing its maritime history. Ocker samples everything: cemeteries, museums, gift shops, performances, wax museums, and more. He talks to street performers and street preachers as he tries to understand the appeals of the city. He interviews curators, haunters, costumed tour guides, a policeman, the mayor, and cemetery caretakers. Ocker devotes whole chapters to real witches, Nathaniel Hawthorne, and TV shows and movies set in Salem. His comic asides lighten the details of haunted houses, hangings, and hysteria without disrespecting the history. The result is a fresh, fun glimpse of a town that has come to grips with its sordid history and prospered. Armchair travelers will enjoy the trip.
— Booklist

An entertaining and historical guide to the varied sites of Salem, with Ocker interviewing everyone from the mayor to local archivists to men in scary costumes, covering burial sites of witch trial judges, and perhaps the most awesome Halloween street party ever described in print, with Ocker's good humor and touch of sarcasm marking his readable style.
— Library Journal
Countryman Press, 9781581573398, 352pp.
Publication Date: October 4, 2016
About the Author
J. W. Ocker is the Edgar Award-winning author of Poe-Land. He runs the website Odd Things I've Seen, where he chronicles his visits to various oddities of culture, art, and history. His writing has been featured in Rue Morgue magazine, CNN.com, American Exorcist: Critical Essays on William Peter Blatty, and Studies in Australian Weird Fiction. Ocker lives in Nashua, NH.