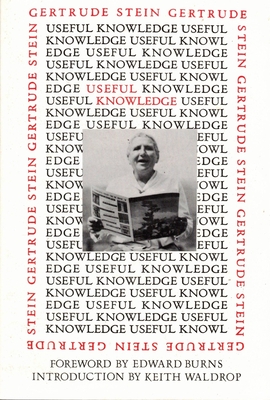 Useful Knowledge (Paperback)
Barrytown Limited, 9781581770766, 207pp.
Publication Date: September 15, 2001
* Individual store prices may vary.
or
Not Currently Available for Direct Purchase
Description
Useful Knowledge is pleasant and therefore it is very much to be enjoyed, writes Gertrude Stein in her Advertisement for this Book-an apt characterization of the experience of reading it sixty years after its disappearance from print. Despite her long expatriation, she always remained in her words, firmly born in Allegheny Pennsylvania. Indeed- physical detachment from her homeland seems only to have deepened her love for the country, a passion very nearly erotic, that blossomed in this private remembrance that is both tender and humorous. War, Woodrow Wilson, Chicago, Sherwood Anderson-such is the range of her intimate concerns. As for the significant questions to which her writings respond: Wherein Iowa differs from Kansas and Indiana and Wherein the South differs from the North, useful knowledge indeed, when the thought is opened along with the word in these extraordinary prose inventions. Keith Waldrop's introduction furnishes new insight into the process and development of Stein's infamous style as always more intricately evolving than is recognized. And Edward Burns provides useful knowledge about Useful Knowledge, the kind of information about Stein's text that we rarely find when we most want it.
Advertisement