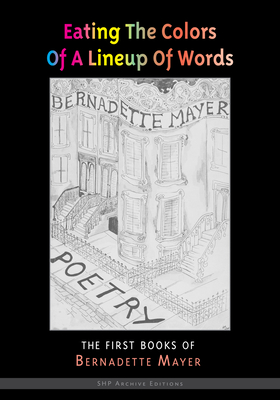 Eating the Colors of a Lineup of Words
The Early Books of Bernadette Mayer
Paperback

* Individual store prices may vary.
Description
Normal0falsefalsefalseEN-USX-NONEX-NONEMicrosoftInternetExplorer4 Bernadette Mayer has been one of the most influential poets of the late 20th century and into the present. Her celebrated and revolutionary first books have long been out of print, available on the secondary market at high costs, by loan or via single-page facsimiles online at Eclipse. While these early books have played an oceanic role in the formation of generations of poets, they are difficult to secure, meaning that opportunities to read them, let along examine them critically, has proven challenging at best. Their operative life has been reduced to rumor and/or brief excerpts, such as New Directions' Bernadette Mayer Reader. This unfortunate gap in the continuum of American experimental poetry is bridged with the publication of Eating the Colors of a Lineup of Words: The First Books of Bernadette Mayer. This multi-book collection includes Ceremony Latin; Red Book in Three Parts; Story; Moving; Poetry; Eruditio Ex Memoria; and The Golden Book of Words. (Studying Hunger Journals, also from this period, was published in 2011 by Station Hill; Memory is forthcoming from Black Widow Press.) This new edition will be an important acquisition for students of contemporary poetry, scholars and libraries.
Praise For Eating the Colors of a Lineup of Words: The Early Books of Bernadette Mayer…
"Collecting roughly 20 years of the earliest, out-of-print poems from Mayer (The Helens of Troy, NY), this collection provides a definitive retrospective on her body of writing prior to the publication of her landmark book-length poem, Midwinter's Day, in 1982. Even Mayer's early poems possess her characteristic ambition, tireless eye, sense of humor, and dedication to experimentation, leaving one with the feeling that she was a fully formed poet from birth. Such traits manifest themselves movingly in her longest poems, where she asserts herself as a roving cataloger of her universe: 'Follow the curb on 52nd St. until you see a policeman/ follow a woman until you see a man. spill something. darken the white line on an avenue until the time is up. drop papers with information on them from a helicopter.' Yet Mayer's shorter lyric pieces often outshine the dexterous longer works by focusing on her emotional vulnerability and toughness: 'Be strong Bernadette,' she tells herself, 'Nobody will ever know/ I came here for a reason/ Perhaps there is a life here/ Of not being afraid of your own heart beating/ Do not be afraid of your own heart beating.' Historic, wide-ranging, and triumphant, this book is a must-have document for poetry aficionados." — Publishers Weekly
Station Hill Press, 9781581771350, 450pp.
Publication Date: July 15, 2015
About the Author
Bernadette Mayer was born in Brooklyn, New York, and received her B.A. from the New School for Social Research in 1967. She is the author of more than two dozen volumes of poetry. From 1972 to 1974, Mayer and conceptual artist Vito Acconci edited the journal 0 TO 9, and in 1977 she established United Artists Press with the poet Lewis Warsh. She has taught writing workshops at The Poetry Project at St. Mark's Church in New York City for many years, and she served as the Poetry Project's director.
or
Not Currently Available for Direct Purchase