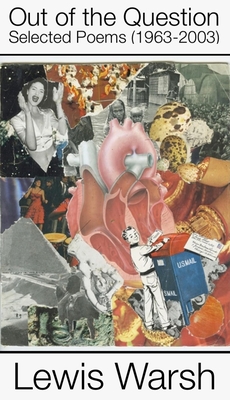 Out of the Question (Paperback)
Selected Poems (1963-2003)
Barrytown/Station Hill Press, Inc., 9781581771640, 176pp.
Publication Date: November 13, 2017
* Individual store prices may vary.
Description
Out of the Question: Selected Poems 1963-2003 gathers together a generous sample of work from Lewis Warsh's many earlier collections. Warsh has been associated with the community of New York School writers who first met at The Poetry Project in Manhattan in the late 1960s, but as poet Forrest Gander writes, in a review of Warsh's book Inseparable, "his influence has been felt nationally and internationally."  Out of the Question includes two long poems: The Suicide Rates, first published in 1967, and The Corset, which appeared in 1986. Novelist Paul Auster described The Corset as "not a poem so much as a new way of seeing the world. There is a stunning intelligence at work here, a fierce, deadpan wit that disturbs and enlightens in equal measure." Auster's comment can be applied to all of Warsh's ongoing experiments, as both a poet and a fiction writer, and Out of the Question is the best possible introduction to anyone unfamiliar with his multi-layered body of work.
About the Author
72544x376
Normal0falsefalsefalseEN-USX-NONEX-NONE
Lewis Warsh is the author of over thirty volumes of poetry, fiction and autobiography, including Alien Abduction (Ugly Duckling Presse, 2015), One Foot Out the Door: Collected Stories  (Spuyten Duyvil, 2014), A Place in the Sun (Spuyten Duyvil, 2010) and Inseparable (Granary Books, 2008).  He was co-founder, with Bernadette Mayer, of United Artists Magazine and Books, and co-editor, with Anne Waldman, of The Angel Hair Anthology (Granary Books, 2001).  He has received grants and awards from the National Endowment for the Arts, the New York State Council of the Arts, The American Poetry Review and The Fund for Poetry. Mimeo Mimeo #7 (2012)was devoted to his poetry, fiction and collages, and to a bibliography of his work as a writer and publisher. He has taught at Naropa University, The Poetry Project, Bowery Poetry, SUNY Albany and Long Island University (Brooklyn), where he was founding director of the MFA program in creative writing (2007-2013) and where he currently teaches. His new novel, Delusions of Being Observed, was serialized in The Brooklyn Rail beginning October 2016. (www.lewiswarsh.com)