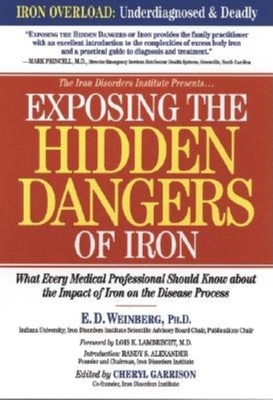 Exposing the Hidden Dangers of Iron (Paperback)
What Every Medical Professional Should Know about the Impact of Iron on the Disease Process
Cumberland House Publishing, 9781581823363, 328pp.
Publication Date: July 1, 2004
* Individual store prices may vary.
Description
Iron is one of the most frequently purchased over-the-counter supplements, second only to vitamin C and calcium. The danger is that, once absorbed, iron can only be excreted in minute amounts of less than one milligram a day (or by heavy blood loss), and excess iron collects in a person's vital organs, thus, setting the disease process under way. As organs literally rust away, patients can experience early death by heart attack, arthritis, liver, pancreatic and colon cancer, increased infections, cirrhosis, diabetes, neurological problems, loss of hearing, tinnitus, depression, impotence, and infertility. Scientists have now discovered a connection to iron impropriety and Alzheimer's, early onset Parkinson's, Huntington's, attention deficit disorder, and epilepsy. EXPOSING THE HIDDEN DANGERS OF IRON is an excellent introduction for medical professionals to the intricacies of iron in the various body systems. Containing a practical guide to diagnosis, it also includes such subjects as the treatment and management of iron-loading conditions, excellent reference charts, a large glossary of terms, additional resources, contact and treatment centers, and a complete bibliography. Cutting edge scientific findings are summarized, complete with endnotes and references, about the devastation of excess iron on the liver, pancreas, gallbladder, spleen, adrenals, kidneys, bone marrow, arteries, heart, pituitary, joints, lungs, hearing, skin, vision, and the brain.