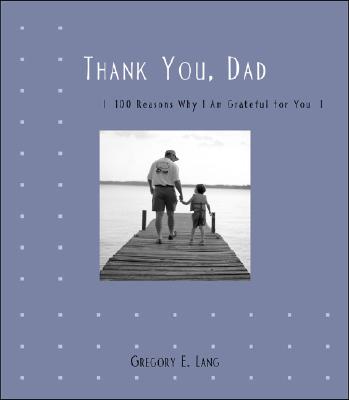 Thank You, Dad (Hardcover)
100 Reasons Why I'm Grateful for You
Cumberland House Publishing, 9781581826043, 128pp.
Publication Date: March 1, 2007
* Individual store prices may vary.
Description
"I know I always looked up to my father when I was young, but I'm also sure that I usually did a good job of hiding it. Like many children and teenagers, as I was growing up, I was mostly interested in what I wanted to do. Sometimes that put me in conflict with Dad. I'm pretty sure I didn't notice how hard he worked to provide for me and to support our family, and I'm pretty sure I never gave much thought to how his example provided me with much of what I would need once I left home and went out on my own."
- Best-selling author Gregory E. Lang
Lang has learned the most about what his dad did for him by being a father himself. As he looks out for his teenage daughters, he realizes that he is now doing for them what was done for him. As in his relationship with his own dad, at this point in their lives his daughters take for granted so much of what he does for them.
"Thank You, Dad" is Lang's thank-you to his dad for how his father's example has guided and inspired him. He simply says, "Dad, you have been my inspiration and my example. Because of you, I know what it means to be a father and a man." His words touch all of us, expressing the unspoken thoughts between all children and their fathers. "Thank you for helping me take care of the things I couldn't handle by myself." "Thank you for standing by me when times were tough for me." "Thank you for setting limits when I needed them." "Thank you for showing your pride in me." "Thanks for requiring me to respect authority." "Thank you for teaching me to be a good sport, win or lose." "Thank you for all those time you carried me on your shoulders."
"Thank You, Dad" is a gift book for anyone who wants to thank the special man in their life and to tell him how important he will always be. In so many ways, all of us build our lives upon what we have learned from our fathers.
or
Not Currently Available for Direct Purchase