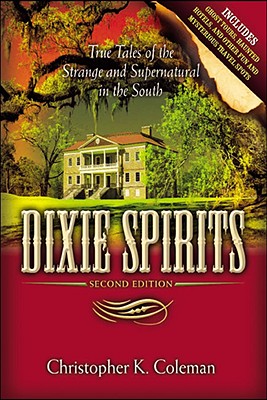 Dixie Spirits (Paperback)
True Tales of the Strange and Supernatural in the South
Cumberland House, 9781581826715, 293pp.
Publication Date: August 1, 2008
* Individual store prices may vary.
Description
There is something about the South that is particularly conducive to ghosts, hauntings, and assorted weirdness. From the dank bayous of Louisiana to the misty mountains of Appalachia, there is hardly a city, town, or whistle-stop that cannot boast of some resident spirit or similar unexplained phenomena. Dixie Spirits explores this uncanny aspect of the South in depth. A collection of authentic Southern "haint" tales and other accounts of the unexplained, the stories are set in the land below the Mason-Dixon Line - Alabama, Arkansas, Georgia, Kentucky (Transylvania), Louisiana, Mississippi, Missouri, North Carolina (Old North State), South Carolina, Tennessee, Virginia, and West Virginia. Covering both the past and the present, these stories recount some of the most famous hauntings of all time as well as an assortment of anomalies that continue to defy speculation. The sixty-two stories in Dixie Spirits are organized into sections by state. Although the tales are about the dead (and undead), they are as much about life and living as they are about death. Love's labor lost, the futility of war, crime and punishment-these are eternal themes that speak to us about the human condition, regardless of their supernatural setting. Moreover, these stories are based on factual, historical incidents involving real people and places. This second expanded edition includes ghost tours, haunted hotels, and other fun and mysterious travel spots.
or
Not Currently Available for Direct Purchase