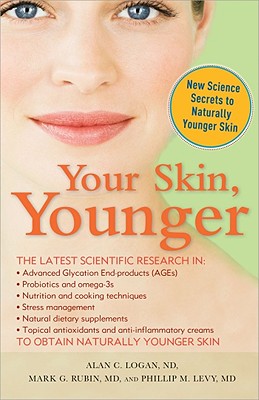 Your Skin, Younger
New Science Secrets to Naturally Younger Skin
Hardcover

* Individual store prices may vary.
Description
The Easiest Action Plan for Naturally Younger Skin
The glowing, wrinkle-free complexion you've always dreamed of is within your reach. You can prevent and limit the visible signs of aging--without synthetics, cosmetics, Botox, or surgery. Based on the latest scientific research, Your Skin, Younger shows you how nutritional skin care will make your skin radiant, healthy, and age-defiant.
Unlike other books or websites, Your Skin, Younger offers affordable, accessible ways to achieve gorgeous skin and explains exactly why these natural methods will work. This go-to guide for younger skin includes:
-
Over thirty skin-healthy recipes
-
Wrinkle-free sleep habits
-
An in-depth dietary supplement review, including what to take and how much
-
How to curb the newest discovery in skin-damaging molecules, Advanced Glycation and-products (AGEs)
-
Which foods are power foods and which are collagen-destroyers
-
The truth about sunscreen
-
Stress-busters
-
Synthetic chemicals to avoid
-
An in-depth natural topicals review, including which ingredients to use
-
Relaxation techniques
-
Ways to reduce inflammation and redness
And much, much more
"A clear and concise guide that will help to protect the skin and improve overall health...This multidimensional resource will surely provide valuable lifestyle information."
--Ron Moy, MD, President-Elect, American Academy of Dermatology, Past President of the American Society for Dermatology Surgery
Cumberland House Publishing, 9781581827057, 302pp.
Publication Date: January 1, 2010
About the Author
Alan C. Logan, ND, FRSH is a board-certified naturopathic physician licensed in Connecticut. He graduated magna cum laude from the State University of New York at Purchase, and as valedictorian from the Canadian College of Naturopathic Medicine. As an invited faculty member of Harvard's School of Continuing Medical Education, he lectures in the mind-body medicine courses offered at Harvard. Co-author of Your Skin, Younger (Sourcebooks, 2010), he is the only naturopathic doctor to have his commentaries published in the four leading dermatology journals - Archives of Dermatology, the International Journal of Dermatology, the Journal of the American Academy of Dermatology and the British Journal of Dermatology. Widely regarded as one of North America's leading cosmetic nutritionists, he has been featured in health and beauty magazines such as Cosmopolitan, Elle, W, Life & Style, as well as CTV and Global National Canadian television.
or
Not Currently Available for Direct Purchase