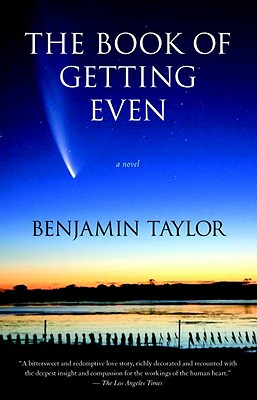 The Book of Getting Even
Paperback

* Individual store prices may vary.
Description
Son of a rabbi, budding astronomer Gabriel Geismar is on his way from youth to manhood in the 1970s when he falls in love with the esteemed and beguiling Hundert family, different in every way from his own. Over the course of a decade-long drama unfolding in New Orleans, Philadelphia, New York, Chicago, and the Wisconsin countryside, Gabriel enters more and more passionately and intimately into the world of his elective clan, discovering at the inmost center that he alone must bear the full weight of their tragedies, past and present. Yet The Book of Getting Even is funny and robust, a novel rich in those fundamentals we go to great fiction for: the exploration of what is hidden, the sudden shocks, the feeling at last of life laid bare.
Praise For The Book of Getting Even…
Winner, 2nd Place, 2009 Barnes & Noble Discover Award for Fiction

Finalist, 2009 Ferro-Grumley Award for LGBT Fiction

"It's hard not to think of Philip Roth while reading Benjamin Taylor's funny, literate The Book of Getting Even. It's not just the impeccable portrait of Jewish-American life in 1970s America, or the comedy of sexual frustrations. It's the sense that this book could mark the start of a great career... I found a kind of reverence in response to Taylor's accomplished novel." — The Cleveland Plain Dealer

"The voice of the outsider looking in has served many great novels well -- among them, notably, The Great Gatsby and Brideshead Revisited. Benjamin Taylor's The Book of Getting Even takes its place alongside its illustrious forebears; it is an intelligent, emotionally resonant novel whose first-person narrative is unafraid to shine a clear, unblinking light onto the tricky themes of sexuality, American class systems, Jewishness, and familial bonds. The Book is Getting Even is beautiful in its elegance and fearlessness, and is almost impossible to put down, from compelling beginning to poignantly surprising end." -- Kate Christensen, winner of the PEN/Faulkner prize for The Great Man

"The Book of Getting Even is a humorous and moving story of a love affair between a young man and an entire family. Benjamin Taylor's prose is beautiful and dense, but never impedes the plot or mitigates the liveliness of the characters. The novel is a mere 176 pages, but its impact is emotionally monumental." -- Mark Jude Poirier, novelist and screenwriter of Smart People

"At 166 pages, The Book of Getting Even is a mortar shot of a novel — the trajectory is steep, the narrative moves at tremendous velocity and the book ends with a bang. Yet it also is a bittersweet and redemptive love story, richly decorated and recounted with the deepest insight and compassion for the workings of the human heart. . . . At the end, we are sadder but wiser, and yet somehow comforted too — signs that we are in the hands of a gifted storyteller." — Los Angeles Times (A Best Book of the Year)

"The Book of Getting Even is elegant and beautifully evoked... The time and place are captured with aching perfection. [Taylor's] considerable gifts as a writer make it worthwhile."
— The Seattle Times

Gabriel Geismar, the embattled protagonist of Taylor's excellent second novel ... has "a furious craving for other, nobler origins." In college, he meets Marghie and Danny Hundert, whose famous physicist father is one of his heroes, and adopts the family as his own. The book explores the tortured and often misguided process by which children attempt to define themselves in relation to their parents (one iteration of the "getting even" of the title), a process from which Danny and Marghie, as Gabriel slowly discovers, are not exempt. Taylor captures their quests for identity in pitch-perfect dialogue and lengthy meditative passages; his elegant plotting feels at once deliberate and improvised.
— The New Yorker

"War and peace, the fracturing of generations, the sexual revolution and its casualties — with irony and pathos this beautifully written novel treats the defining themes of an era, filtered through the restless, eccentric intelligence of a striking cast of characters." — The Boston Globe

"A beautifully written and keenly intelligent novel, ... in turn humorous, almost unbearably moving, and comforting." — Booklist (starred review)

"Reading The Book of Getting Even is like first encountering Franny and Zooey or Brideshead Revisited. I never expected to feel quite that way about a book again, and this one even disturbed my dreams two nights running, which doesn' t happen unless one is in a very heady realm indeed. What a tour de force, and what a pleasure. Benjamin Taylor is a literary magician." — Beth Gutcheon

"What a wonderfully unusual and refreshing novel! From the very first page of The Book of Getting Even, you know you're in the hands of a virtuoso of words and an energetic storyteller. Benjamin Taylor's hero, an astronomer-to-be, and his chosen family are flung about mercilessly by history, and their surprising destinies are played out against nothing less than the physical universe itself — from the farthest stars to the creepy things underfoot. This book is a splendid gift for the mind as well as the heart." — Lynn Sharon Schwartz

"The Book of Getting Even is beautiful and beguiling. I especially admire Benjamin Taylor's ability to pack so much complex life into such an elegant package. It seems almost miraculous." — Peter Cameron

"This elegiac novel features the long, tragic friendship of three young people coming of age in the 1970s. They meet as undergraduates at Swarthmore and begin their adult lives full of promise. By the end of the novel, that promise has given way to sadness, regret, and defeat, mainly because of bad choices. All three protagonists are skillfully rendered. Daniel and Marghie are fraternal twins, children of a Nobel prize-winning physicist, while Gabriel is the son of a rabbi from New Orleans. [ . . .] Much here is beautifully drawn: Gabriel's failed or unrealized romantic relationships prove especially poignant. These young people also lose their parents, and Taylor handles these passages with eloquence and pathos. This is a novel about friendship, loneliness, and the hazards adults encounter as they make their way in the world." — Library Journal

"In this delightful, character-driven coming-of-age novel, Gabriel Geismar grows up in mid-20th-century New Orleans as the son of a rabbi, who is out of sync with his father's values. . . . Benjamin Taylor turns in a smart, humane look at what Gabriel calls the era's 'intergenerational rancor.'" — Publishers Weekly

"An electric, arresting piece of writing, every bit on par with — and every bit as rich as — its brilliant title." — Stacy Schiff

"The Book of Getting Even is a deeply satisfying novel, elegant and intellectually complex. I could read Benjamin Taylor forever." — Ann Patchett

"The Book of Getting Even is among the most original novels I have read in recent years. The story Taylor tells is a romance of brains — brains working well, then tragically giving out. The book is exuberant and charming and heartbroken by turns; indeed, the jaggedness of the ride is one of the things I liked best, along with Taylor's proceeding by ironies. Add to that lyricism, an ear for dialogue, a strong feel for place, and a highly developed dramatic sense and you begin to have an idea of this novelist's exceptional gift." — Philip Roth

"Finding one's true home at the heart of another family is the theme of this eloquent, highly intelligent novel, a kind of love story not often seen, rendered in beautiful sentences flecked with humor and pain, the front-row report of a young man's great good luck." — Amy Hempel


"Benjamin Taylor's new novel, The Book of Getting Even, is literary fiction of the first water and a fitting successor to the evocative bildungsroman Tales Out of School. Here, Taylor looks with gimlet eye at family life -- the vexed relations of fathers and sons and sisters and brothers -- yet his vision is wide and deep; this is a book about literature and astrophysics, politics and persons, anxiety and belief, entomology and our place in the universe. Touching, tender, searing, exhilarating, it is written with unpretentious wisdom." — Brenda Wineapple

"Benjamin Taylor is a superb novelist. His book is marvelous in its originality, depth, sensitivity and power." — Romulus Linney
Zoland Books, 9781581952322, 166pp.
Publication Date: February 10, 2009
About the Author
Benjamin Taylor is the author of the novel Tales Out of School, which won the 1996 Harold Ribalow Prize and is available in paperback from Zoland Books, an imprint of Steerforth Press. He is editor of The Letters of Saul Bellow, scheduled for publication in 2010. His travel memoir, Naples Declared, will be published in 2011. He lives in New York City.
or
Not Currently Available for Direct Purchase