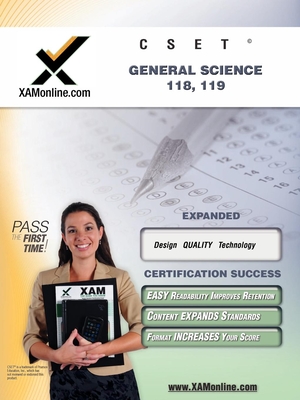 Cset General Science 118, 119 Teacher Certification Test Prep Study Guide (Paperback)
Cset General Science (XAM CSET)
Xamonline.com, 9781581973426, 205pp.
Publication Date: April 1, 2008
* Individual store prices may vary.
Description
CSET Biology-Life Science 120, 124 Includes 29 competencies/skills found on the 2 CSET Biology-Life Science tests (Test Code 120 and 124) and 125 sample-test questions. This guide, aligned specifically to standards prescribed by the California Department of Education, covers the sub-areas of Cell Biology and Physiology; Genetics; Evolution; Ecology; Investigation and Experimentation; the Nature of Science; and Science and Society. The material present in the study guide serves the purpose of being a complete resource for those seeking the specialized teaching credential in the area of Biology-Life Science, assumed by both the concentration (Subtest # 120) and specialized (Subtest # 124) teacher examination areas for Biology-Life Science. The material within the study guide is applicable for the general and integrated science teaching credential when combining tests for the Biology-Life Science (Subtest # 120) concentration area with both General Science (Subtest # 118, Subtest # 119) areas. Additionally, the user is encouraged to buy the CSET General Science 118, 119 study guide ISBN # 978-1-58197-808-7 to explore content for both General Science subtests.