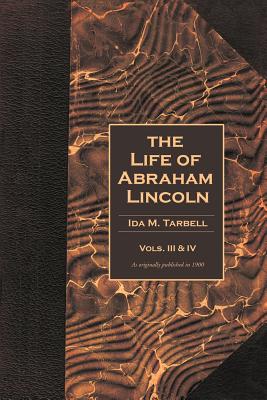 The Life of Abraham Lincoln
Volumes 3 & 4 in One Book
Paperback

* Individual store prices may vary.
Other Editions of This Title:
Paperback (11/30/2008)
Paperback (11/2/2008)
Paperback (12/1/2008)
Paperback (9/22/2009)
Paperback (9/20/2009)
Paperback (4/10/2009)
Paperback (12/4/2008)
Hardcover (12/9/2008)
Hardcover (11/10/2018)
Hardcover (10/14/2018)
Hardcover (9/22/2009)
Hardcover (8/22/2015)
Paperback (10/14/2018)
Paperback (11/10/2018)
Hardcover (9/20/2009)
Hardcover (4/10/2009)
Hardcover (11/14/2008)
Hardcover (8/24/2015)
Hardcover (5/5/2016)
Hardcover (5/5/2016)
Description
The work here offered the public was begun in 1894 at the suggestion of Mr. S. S. McClure and Mr. J. S. Phillips, editors of "McClure's Magazine." Their desire was to add to our knowledge of Abraham Lincoln by collecting and preserving the reminiscences of such of his contemporaries as were then living. In undertaking the work it was determined to spare neither labor nor money and in this determination Mr. McClure and his associates have never wavered. Without the sympathy, confidence, suggestion, and criticism, which they have given the work it would have been impossible. They established in their editorial rooms what might be called a Lincoln Bureau and from there an organized search was made for reminiscences, pictures, and documents.
To facilitate the work, all persons possessing or knowing of Lincoln material were asked through the magazine to communicate with the editor. The response was immediate and amazing. Hundreds of persons from all parts of the country replied. In every case the clues thus obtained were investigated and if the matter was found to be new and useful was secured. The author wrote thousands of letters and traveled thousands of miles in collecting the material, which came to the editor simply as a result of this request in the magazine. The work thus became one in which the whole country cooperated.
No attempt has been made to cover the history of Lincoln's times save as necessary in tracing the development of his mind and in illustrating his moral qualities. It is Lincoln the man, as seen by his fellows and revealed by his own acts and words, that the author has tried to picture.
Digital Scanning, 9781582181257, 568pp.
Publication Date: July 19, 1999
or
Not Currently Available for Direct Purchase