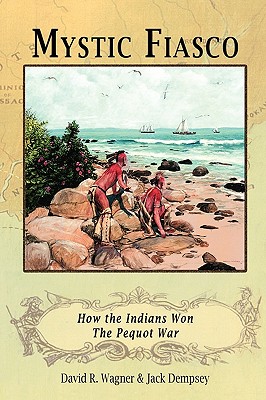 Mystic Fiasco How the Indians Won The Pequot War
Paperback

* Individual store prices may vary.
Other Editions of This Title:
Paperback (11/15/2003)
Description
American histories have long held that in May 1637---"Connecticut's Birthday"---a small force of English colonists guided by Mohegan Native allies set out to break the back of Pequot dominion in New England. According to Alfred E. Cave's The Pequot War and other accounts, the English and Mohegans supposedly marched "undetected" across multiple Indian territories, and at the Pequot village of Missituc on the Mystic River, trapped and killed between 300 and 700 men, women and children---thus launching the northern English colonies' first "total war" against Native Americans. What new understandings emerge when, for the first time, readers can examine these records and traditions against the actual landscape? What were the realities of New England tribal life, and of Native American war, in the 1600s? If the colonists of Massachusetts Bay and Hartford were in their own words "altogether ignorant" of how to locate, identify, fight, and control Native peoples, how did thoroughly-intermarried Pequots, Mohegans, Narragansetts and others exploit these crucial English blind-spots with astonishing, subtle and yet plainly visible counter-strategies? Why were guns, armor and European assault-tactics the wrong means of war in New England? What were the consequences near and far of the colonies' refusals to adjust? Tracking every step of The Pequot War from its origins to its aftermath and influences, Mystic Fiasco is its most comprehensive and detailed study. Its basis in the landscape exposes the fundamental but unexamined paradigms that hard-wired the American colonial psyche from those days to these. With user-friendly maps and illustrations by renowned historical artist David R. Wagner and the documentary expertise of historian Jack Dempsey, Mystic Fiasco is filled with resources that empower you to go and discover this "Mystic Massacre" and Pequot War for yourself.
Digital Scanning, 9781582187747, 260pp.
Publication Date: July 9, 2010