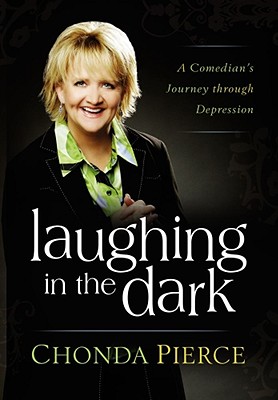 Laughing in the Dark: A Comedian's Journey through Depression (Hardcover)
A Comedian's Journey through Depression
Howard Books, 9781582296418, 240pp.
Publication Date: February 20, 2007
* Individual store prices may vary.
or
Not Currently Available for Direct Purchase
Description
A Kind Friend to Walk with You...
For many, depression is associated with shame and humiliation -- even a lack of faith. But in this refreshingly honest and oh-so-very-real revelation of one woman's journey through depression, you'll hear the voice of a kind friend. And in her words you'll find hope and renewed confidence that will guide you through your own darkness and into the light.
If you are currently suffering from depression -- this book will help you realize you're not alone.

If you have a loved one dealing with depression -- this book will help you understand.

If you are a mental-health professional -- you now have a new tool to encourage your clients.

Along with the humor, Chonda shares practical insight, biblical teaching, emotional support, and sympathetic concern. Whether you've experienced depression in your own life or in the life of someone you love, this friend has something to offer you: help, hope and, believe it or not, plenty of laughter.
Praise For Laughing in the Dark: A Comedian's Journey through Depression…
"For years we've known the voice and have seen the smiles of Chonda from her light side, and we've always been encouraged. In this new book, she gives us the privilege of experiencing another side that's equally as brilliant and engaging. She's real, transparent, insightful, and honest. Who could ask for more from an author or friend?"
Mary Graham -- President, Women of Faith



"Chonda is a dear friend and a brave soul. What you'll find in this all-out honest book is that there is light on the other side of darkness; there is hope if you'll just hang on. If you're in the dark, you'll laugh and cry as you find answers, hope, and a reason to keep going in the pages of this amazing book."
Sandi Patty -- Music Artist; Author, Broken on the Back Row and Life in the Blender



"Chonda Pierce has brought laughter into the homes of LIFE Today viewers all over the world. Like many comedians, she has experienced pain and darkness, which she shares with humor and candor in these pages. She inspires us to receive the grace necessary to fight the good fight of faith and win."
James & Betty Robison -- LIFE Outreach International, Fort Worth



"Chonda allows us to see depression from the inside out. You don't just gracefully walk out of depression; you fight your way out. It takes courage and determination, and Chonda's account of this battle offers hope and freedom from the myths that hamper progress."
Alison Y. Evans, PsyD -- Licensed Professional Counselor
Advertisement