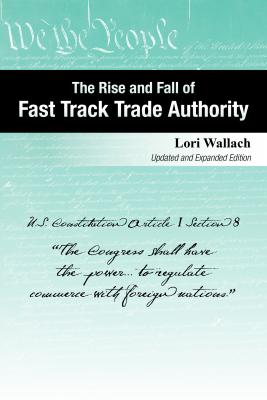 The Rise and Fall of Fast Track Trade Authority (Paperback)
Public Citizen's Global Trade Watch, 9781582310527, 160pp.
Publication Date: April 9, 2013
* Individual store prices may vary.
or
Not Currently Available for Direct Purchase
Description
Under the U.S. Constitution, Congress writes the laws and sets our

trade policy. And so it was for two hundred years. Yet, over the last

few decades, presidents have increasingly taken over both of those

powers through a mechanism known as Fast Track. Fast Track, first established in the early 1970s, delegates to the executive

branch five major elements of congressional authority, which

are: the power to select trade partners; the power to set terms and

sign agreements before Congress votes on them; the authority to

write legislation, skirt congressional committee review and amendment

processes and directly submit it for a vote; the power to override

congressional leaders' control of House and Senate floor schedules

and force votes within a set number of days; and an override of

normal voting procedures, including a ban on all amendments and

limits on debate.



Despite Fast Track's dramatic shift in the balance of powers

between the branches of government, this extraordinary seizure of

congressional authority has occurred in the context of an arcane

procedural mechanism, thus Fast Track has received little scrutiny –

until recently.



Fast Track facilitated controversial commercial pacts including the

North American Free Trade Agreement (NAFTA) and the World

Trade Organization (WTO). Unlike past trade agreements, which

were limited to traditional trade matters such as cutting tariffs and

opening quotas, these agreements and those that followed NAFTA

and WTO set binding restrictions on many U.S. non-trade policies

including those pertaining to procurement and immigration, financial

and energy regulation, patent and copyright law and food and product

safety. In recent years, the use of Fast Track by Democratic and

Republican administrations alike to seize Congress' constitutional

prerogatives and "diplomatically legislate" significant changes to

U.S. domestic non-trade laws, and internationally preempt state policies,has made the process increasingly controversial.



This revised and updated edition of "Rise and Fall" explores how the

process of designing U.S. trade agreements has changed from 1789

to the present. This book provides unprecedented documentation

of the arguments that motivated both opponents and proponents of

the expansion of executive power. The last congressional delegation

of Fast Track authority terminated in 2007. As some policymakers

in Washington consider renewing this flawed procedure, the book

considers a new delegation mechanism that could restore a more

robust role for Congress and reduce political tension about trade

policy. At issue is what trade agreement negotiating and approval

process can best secure prosperity for the greatest number of

Americans, while preserving the vital tenets of American democracy

and our constitutional checks and balances in the era of globalization.
Praise For The Rise and Fall of Fast Track Trade Authority…
Praise for the 2009 Edition:



Senator Sherrod Brown, Democrat of Ohio and congressional

trade-policy leader:

"If you wonder why trade policy over the past several years

has reflected such narrow interests, look no further than

the imbalanced trade policymaking process that is Fast

Track. There is no other legislative mechanism with such

extraordinary powers. Read this informed and engaging

account of Fast Track's history and take action."



Representative Mike Michaud, Democrat of Maine and Co-founder of

House Trade Working Group:

"Most people now in Congress weren't elected when President

Nixon designed Fast Track to grab Congress' exclusive constitutional

authority over U.S. trade policy. President Obama

discussed the need to replace Fast Track with a process that

ensures a greater role for Congress. This book provides the

lessons of 233 years of American trade authority history to

inform Congress's efforts to create just such a new trade negotiating

mechanism."



Dean Baker, Co-Director at Center for Economic and Policy

Research, author of "Plunder and Blunder: The Rise and Fall of the

Bubble Economy." :

"This is a valuable account of the process through which business

interests have sought to preempt the democratic control of

trade policy. These interests have succeeded in structuring the

trade debate so that their policies, many of which are highly

protectionist, are dubbed 'free trade,' and any opposition is

defined as 'protectionist.'"



David Sirota, Syndicated columnist and author, "The Uprising" and

"Hostile Takeover.":

"Trade is one of the most misunderstood yet most important

economic issues America confronts in the 21st century – and

rescuing our trade policy from the jaws of corporate manipulation

must be a top priority for our nation. Lori Wallach and

Todd Tucker have provided a much-needed blueprint detailing

how we can do just that."



Ha-Joon Chang, University of Cambridge economics professor, and

author, "Bad Samaritans.":

"Unbeknownst to most of us, the Fast Track trade authority

has been one of the most important institutions that have

shaped the global economy in the last few decades. This

short but powerful book provides a very detailed, historically

informed, and trenchant analysis of this important but

neglected issue. It is a must read for anyone who is interested

in understanding the future of the U.S. economy and the world

economy."



Alfred E. Eckes, Ohio Eminent Research Professor in Contemporary

History at Ohio University, author of "Opening America's Market:

U.S. Foreign Trade Policy Since 1776," and former Reagan-appointed

Chairman and Commissioner, U.S. International Trade Commission:

"Candidates for federal office should be required to read and

address the critical issues raised in this stimulating book.

Wallach and Tucker make a persuasive case that the fast-track

trade negotiating process produces agreements weighted to

the interests of corporate giants and harmful to democratic

governance and public safety. Their argument that a more

democratic trade policy process is both possible and desirable

merits the attention of public officials and thoughtful citizens

everywhere."



Peter Riggs, Director, Forum on Democracy & Trade:

"'The Rise and Fall of Fast Track' takes as its starting point

the Constitutional division of authority over commerce and

foreign relations between Congress and the president. The

authors show how this in-built tension – Congress safeguarding

its right to regulate Commerce, the president arguing

for deference to his broader foreign policy objectives

– has played out in different political contexts and climates.

The result is a fascinating narrative of committee influences

and political personalities, of short-term electoral advantage

and how the United States' evolving role in the global economy

increased the ambition of the executive branch. Most

importantly, 'The Rise and Fall' shows the highly contingent

nature of the current Nixon-era template for delegating

power to the president, its eventual exhaustion under George

W. Bush, and its failure to provide a suitable basis for trade

policy formation in the future. Tucker and Wallach's highly

readable account gives us the historical grounding necessary

for re-thinking Congress' role in negotiating and implementing

trade agreements, one that restores a healthy balance of

powers, more consistent with our system of Constitutional

federalism."
Advertisement