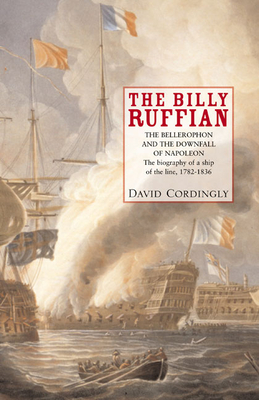 The Billy Ruffian: The Bellerophon and the Downfall of Napoleon (Hardcover)
The Bellerophon and the Downfall of Napoleon
Bloomsbury USA, 9781582341934, 320pp.
Publication Date: October 1, 2003
* Individual store prices may vary.
or
Not Currently Available for Direct Purchase
Description
From the author of" Under the Black Flag," the biography of a British warship and a portrait of a world at war during the Napoleonic era.
The story of the seventy-four gun warship "Bellerophon" will be familiar to anyone who's read Patrick O'Brian or C.S. Forester. The Billy Ruffian runs from its subject's birth (in a small shipyard in 1782) to her death (in a breaker's yard more than fifty years later, after serving as a prison ship). In the intervening years the Billy Ruffian played a conspicuous part in three of the most famous of all sea battles: the battle of the Glorious First of June (1794), the opening action against revolutionary France; the battle of the Nile (1798), which halted Napoleon's eastern expansion from Cairo; and the battle of Trafalgar (1805), which established British naval supremacy for 100 years. But her crowning glory came six weeks after the Battle of Waterloo in 1815, when Napoleon, trapped in La Rochelle, surrendered to the captain of the ship that had dogged his steps for more than twenty years.
Using diaries, ship's logs, personal letters, and other contemporary documents, David Cordingly has created a fascinating and eminently readable account of life both on ship and off during this most romantic of eras.
About the Author
David Cordingly is the author of several acclaimed books on the subject of pirates, including, most recently, Under the Black Flag: The Romance and Reality of Life among the Pirates (1996). He lives by the sea in Brighton, England.
Advertisement