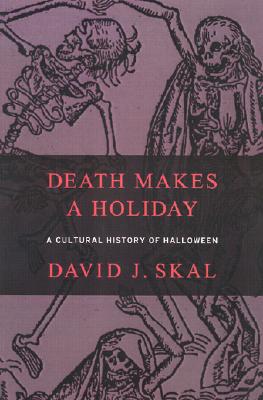 Death Makes a Holiday (Hardcover)
A Cultural History of Halloween
Bloomsbury USA, 9781582342306, 256pp.
Publication Date: September 1, 2002
Other Editions of This Title:
Paperback (10/1/2003)
* Individual store prices may vary.
Description
From acclaimed cultural critic David J. Skal, an in-depth look at one of the most popular-and perplexing-holidays in America.

Using a mix of personal anecdotes and brilliant social analysis, Skal examines the amazing phenomenon of Halloween, exploring its dark Celtic history and illuminating why it has evolved-in the course of a few short generations-from a quaint, small-scale celebration into the largest seasonal marketing event outside of Christmas.

Traveling the country, Skal profiles a wide cross-section of America-hard-nosed business men who see Halloween in terms of money; fundamentalists who think it is blasphemous; practicing witches who view it as sacred; and more ordinary men and women who go to extraordinary lengths, on this one night only, to transform themselves and their surroundings into elaborate fantasies. Firmly rooted in a deeper cultural and historical analysis, these interviews seek to understand what the various rituals and traditions associated with the holiday have to say about our national psyche.
About the Author
David J. Skal is the author of "Hollywood Gothic "and "The Monster Show," among others. With Nina Auerbach, he is the co-editor of the Norton Critical Edition of Bram Stoker's "Dracula." A longtime New Yorker, he now lives in Los Angeles.
Praise For Death Makes a Holiday: A Cultural History of Halloween…
"All Hallows Eve, to use one of its many aliases, is a night when usual distinctions between fun and fear, children and adults, the living and the dead are magically blurred, argues Skal . . . Mixing historical fact ('witch-hunts were aided and abetted by European texts like Malleus Maleficarum, and reinforced the misogynistic, witch-as-crone stereotype for the New World') with folklore and urban legends, Skal makes his study much more treat than trick. He recounts the holiday's evolution from the pagan new year of Samhain to a night that has brought the likes of the Miami child murders of the early 1980s and the 'Perfectly Under Control' Halloween of Martha Stewart. Skal interviews people who have a particular affinity for the darker side, like horror maven Clive Barker and the mother-and-son duo who run a Horror Hotel Monster Museum, and ends with Halloween 2001, when 'never before had so much genuine human feeling and civic solidarity been expended on a holiday previously notorious for its antisocial aspects.'"—Publishers Weekly
or
Not Currently Available for Direct Purchase