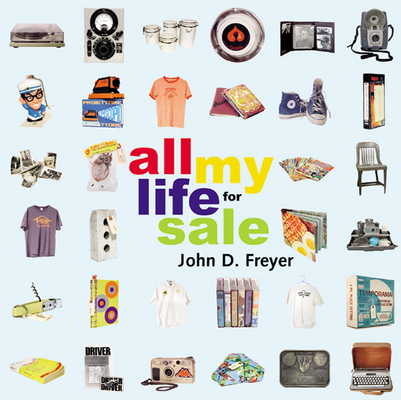 All My Life for Sale (Hardcover)
Bloomsbury USA, 9781582342511, 224pp.
Publication Date: November 1, 2002
* Individual store prices may vary.
Description
The classic American passion for the road meets the current obsession with internet consumption in one of the most original illustrated books to come along in years.
One day, John Freyer decided to sell everything he owned on the internet. He invited his friends over to tag all the possessions in his apartment, and he systematically put them up for sale on eBay. An unopened box of taco shells, half a bottle of mouthwash, almost all of his clothes, his favorite records, his sideburns (in a plastic bag), his family's Christmas presents (not yet given), furniture: John didn't let sentiment or utility stand in his way. Soon his belongings were sold all over the world, with a bag of Porky's BBQ Pork Skins making its way to Japan, and a chair ending up in the Museum of Modern Art. With almost all the objects in his life now gone, he started the second phase of his journey: to go visit his one-time possessions in their new surroundings.
All My Life for Sale
is an extraordinary book that functions as an autobiography, a travel narrative, and a meditation on what the objects we surround ourselves with actually mean to us and what happens when we set them free. Designed by the author himself, it is visually striking, surprisingly moving, and will change the way you look at the things that surround you.
About the Author
John Freyer was born in Syracuse, New York and is the fifth of seven children. After graduating from Hamilton College with a degree in Political Science, Freyer worked at Light Work, a non-profit arts organization in upstate New York. In 1999, Freyer co-founded Wind-Up Films, an action sports film production company. He has been a snowboard instructor, a cinematographer on ski and snowboard films, and a graphic designer. Freyer has created numerous web sites, including his ongoing travelogue Temporama.com. He is currently a Bodine Fellow in the Department of Art & Art History at the University of Iowa and lives in Iowa City.
or
Not Currently Available for Direct Purchase