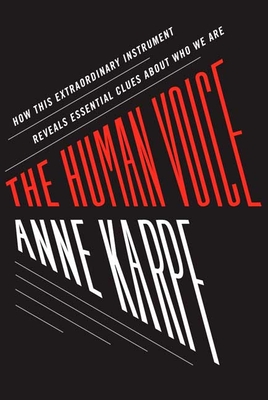 The Human Voice: How This Extraordinary Instrument Reveals Essential Clues About Who We Are (Hardcover)
How This Extraordinary Instrument Reveals Essential Clues About Who We Are
Bloomsbury USA, 9781582342993, 400pp.
Publication Date: August 22, 2006
* Individual store prices may vary.
or
Not Currently Available for Direct Purchase
Description
Dazzling and groundbreaking, the first book to explore something so fundamental that most of us take it for granted.
What is more amazing about the voice: its central importance to human society, or our widespread disregard for it? From an early age we are taught to think about what we say, what we do, what we wear "not "about how we sound. In fact, Karpf points out, we are overlooking one of the primary things people notice about us. The voice is more than a conduit for language: the moment you open your mouth and start to speak, even if it's only to read from the phone book, your voice reveals, with remarkable accuracy, not only your sex, but your size, height, weight, and physique, and your health, education, mood, and social status. It tells your listener whether you are to be trusted, respected, or dismissed. And only the modulation of your voice makes you comprehensible at all: transgress the normal codes of volume, pause, and pitch, and you can entirely sabotage conversations, turning sense into nonsense.
The culmination of years of research by acclaimed journalist, sociologist, and radio broadcaster Anne Karpf, "The Human Voice "is an utterly fascinating book on a universal subject. Karpf's groundbreaking investigation uncovers the powerful messages that lie not just in what we say, but how we say it, and will make you hear the voices around you as if with new ears.
About the Author
Anne Karpf is a writer, journalist, broadcaster, and sociologist, and the author of The War After and Doctoring the Media. She has been a contributing editor to Cosmopolitan, a book reviewer for the Times, and the radio critic of the Guardian. Currently, she writes a weekly column in the Guardian on the family and teaches writing at London Metropolitan University. Anne Karpf lives in London and has two daughters.
Advertisement