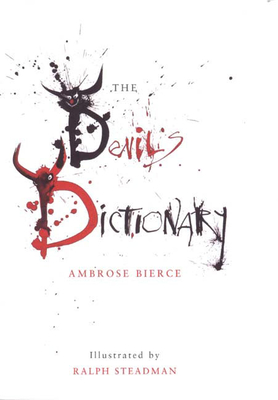 The Devil's Dictionary
Hardcover

* Individual store prices may vary.
Other Editions of This Title:
Paperback (1/1/1999)
Paperback (10/3/2005)
Paperback (8/2/2020)
Paperback (8/2/2020)
Paperback (11/6/2011)
Paperback (10/27/2013)
Paperback (4/29/2020)
Paperback (9/25/2019)
Paperback (9/26/2020)
Paperback (9/9/2014)
Paperback (3/16/2019)
Paperback (11/23/2016)
Paperback (11/1/2020)
Paperback (8/6/2007)
Paperback (1/10/2005)
Description
Bierce's classic work of satirical wit and Steadman's pointed pen redefine the way we see even the seemingly simplest of terms.
Acquaintance, n.: A person whom we know well enough to borrow from but not well enough to lend to.
Bride, n.: A woman with a great future behind her.
Consult, v: To seek another's approval of a course already decided on.
Ambrose Bierce's "dictionary" of epigrams, essays, verses, and vignettes targets the religious, the romantic, the political, and the economic, in equal measure. The book you need to define both friends and enemies, "The Devil's Dictionary" is also the perfect gift, showcasing Bierce's razor-sharp wit and Ralph Steadman's incisive pen to their best advantage.
Bloomsbury USA, 9781582343808, 192pp.
Publication Date: January 17, 2004
About the Author
Ambrose Bierce (1842-1914), friend and rival of Mark Twain, was one of nineteenth-century America's most renowned satirists. A Union veteran of the Civil War, he became one of the best-known writers and journalists in the country. In 1913 he set off for Mexico, then in the throes of revolution, and was never seen again. Ralph Steadman, artist, writer, sculptor, political cartoonist, and designer of labels for vintage wines, is the author/illustrator of, most recently, the novel Doodaaa, as well as the illustrator of Lewis Carroll's Alice, George Orwell's Animal Farm, and Hunter Thompson's Fear and Loathing in Las Vegas. His work appears regularly in such publications as the New Yorker, the New York Times, GQ, Esquire, and the Los Angeles Times.
or
Not Currently Available for Direct Purchase