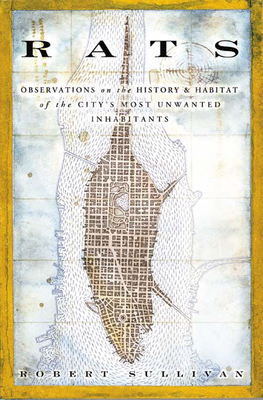 Rats: Observations on the History and Habitat of the City's Most Unwanted Inhabitants (Hardcover)
Observations on the History and Habitat of the City's Most Unwanted Inhabitants
Bloomsbury USA, 9781582343853, 256pp.
Publication Date: April 1, 2004
* Individual store prices may vary.
or
Not Currently Available for Direct Purchase
Description
Thoreau went to Walden Pond to live simply in the wild and contemplate his own place in the world by observing nature. Robert Sullivan went to a disused, garbage-filled little alley in lower Manhattan to contemplate the city and its lesser-known inhabitants-by observing the rat.
Rats live in the world precisely where humans do; they survive on the effluvia of human society; they eat our garbage. While dispensing gruesomely fascinating rat facts and strangely entertaining rat-stories-everyone has one, it turns out-Sullivan gets to know not just the beast but its friends and foes: the exterminators, the sanitation workers, the agitators and activists who have played their part in the centuries-old war between human city dweller and wild city rat. With a notebook and night-vision gear, he sits nightly in the streamlike flow of garbage and searches for fabled rat-kings, sets out to trap a rat, and eventually travels to the Midwest to learn about rats in Chicago, Milwaukee, and other cities of America. With tales of rat fights in the Gangs of New York era and stories of Harlem rent strike leaders who used rats to win tenants basic rights, Sullivan looks deeper and deeper into the largely unrecorded history of the city and its masses-its herd-of-rats-like mob. Funny, wise, sometimes disgusting but always compulsively readable, Rats earns its unlikely place alongside the great classics of nature writing.
Did you know?
- 26% of all electric cable breaks and 18% of all phone cable disruptions are caused by rats, 25% of all fires of unknown origin are rat-caused, and rats destroy an estimated 1/3 of the world's food supply each year. The rat has been called the world's most destructive mammal-other than man.
- Male and female rats may have sex twenty times a day. A female can produce up to twelve litters of twenty rats a year: one pair of rats has the potential for 15,000 descendants in a year.
About the Author
Robert Sullivan is the author of "The Meadowlands" and "A Whale Hunt," both "New York Times" Notable Books of the Year, and a recipient of a National Endowment for the Arts creative writing fellowship. A contributing editor to "Vogue," he is a frequent contributor to the "New Yorker." His work has also appeared in "Conde ""Nast Traveler" and the "New York Times Magazine." He lives in Hastings-on-Hudson, New York."
Praise For Rats: Observations on the History and Habitat of the City's Most Unwanted Inhabitants…
Praise for Robert Sullivan:

"A troubadour of urban borders, Robert Sullivan explores territory where no one wants to go."
-Village Voice

Praise for The Meadowlands:
"Provocative, audacious...by looking observantly, without trite moralizing, at the natural world...this book suggests a challenging new model for how we ought to pay attention."
-New York Times Book Review

"A fine, intrepid work of reporting that finds revelations...The Meadowlands is funny, interesting, surprising and bizarre."-Ian Frazier

"A different kind of search for the diverting sublime...what a tremendous feat of the imagination! To celebrate the natural (and unnatural) beauties of a wasteland!"
- San Francisco Chronicle

Praise for A Whale Hunt:
"A rich story, at turns ironic and bemusing, sad and funny."-USA Today

"A book that is at once enthralling, fair-minded, and very funny."-New York Review of Books

"Marvelous...Sullivan has a very Ishmael-like talent for being both funny and generous."
- New York Times Book Review
Advertisement